Posted by Wiley Moody on Sep 21, 2020
You've decided to buy a used V-twin cruiser motorcycle. Whether you're an experienced rider or new to cruiser bikes, there are a few important questions you need to ask yourself: What do I look for? How do I know I'm not buying a lemon? What questions do I need to ask? To find a great used bike without getting scammed, you should follow a used motorcycle buying checklist.
It will probably take you 30+ minutes to meet the used bike seller, go over the bike, inspect it, and ask any questions you might have. So take your time, and don't hesitate to speak your mind if you see anything off. Walk away if you get any weird or negative vibes. Do some research on bike valuations in advance, too. Here's our simple used motorcycle checklist to get you started.
Inspect the Motorcycle Cold
Regardless of the bike's age, ensure it's cold when you arrive to inspect it. Request that from the seller. That ensures you're able to turn the bike on yourself and see and hear how everything runs. It's harder for the seller to hide issues when the cruiser bike is cold. When you arrive, place your hand near the exhaust and engine to verify the bike hasn't been running.
As part of your used motorcycle buying checklist, take these steps:
When you start the bike, look out for excessive rattling or abnormal sounds
Look out for unusual starting problems
Check for leaking fluids underneath the bike
Check for excessive smoke coming from the exhaust system
Thoroughly Check All Bike Components
Take your time checking every component of the cruiser bike. Check the handlebars, bar ends, and footpegs for any excessive wear and tear that could indicate the bike has been damaged or dropped. Inspect the fairings and look at the mirrors and turn signals for any scratches, cracks, or damage. Replaced parts may be signs of damage. Be sure to ask the seller to verify repairs and upgrades. Bring a small flashlight to help you inspect all components up close.
Inspect the Tires, Oil Level, and Brake Fluid
Another vital point in your used motorcycle buying checklist is checking the bike's oil level, brake fluid, and tire condition. That will give you a better idea of the bike's condition and whether the seller has been serious about bike maintenance. Find out how to correctly check oil levels before meeting the seller. When inspecting, verify oil changes, check brake fluid level and color, and the tire wear bar indicator to see how much life remains in the tires.
Look Inside the Gas Tank and Check Underneath the Seat
Do a quick check inside the tank to see if there's any visible damage or rust spots - this is a critical step in any used motorcycle buying checklist. Check for strange smells apart from fuel and anything floating. Rusting indicates problems that could impact the bike's performance. Check underneath the seat to see the battery and electrical wiring. You want a battery that's as close to the stock option as possible. Find out from the seller about battery problems or electrical issues. Look out for anything amiss and walk away if the seller is sketchy with details.
Verify the VIN and Motorcycle Registration
Whether you're buying a used bike from an individual owner or a dealer, verify the VIN, bike registration, and ownership. In our used motorcycle buying checklist, comparing the VIN with the numbers on the bike itself is a top priority. The registration should match the cruiser bike model and year. Also, verify that the seller's ID matches the name on the registration details. Doing your due diligence is part of your used motorcycle checklist.
Take a Test Drive
Some sellers won't let you take their bike on a test ride, but you should insist. Ask beforehand and if the seller says no, show up with cash and offer to leave it in exchange for a test drive - that's if you're impressed with the bike. A test drive gives you a feel of the bike, the comfort level, riding experience, and potential problems you didn't notice during the cold inspection.
Assess the Seller Personally and Make an Offer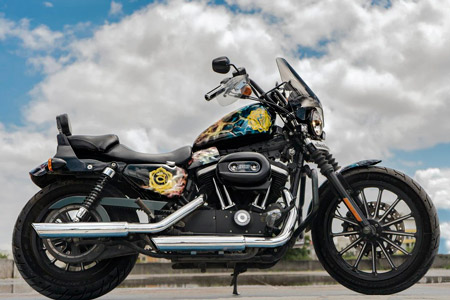 How are you relating to the seller on a personal level? Does he feel like someone trustworthy? Did they answer all your questions in-depth or did it seem like they were hiding something? Consider all these options as part of your used motorcycle buying checklist. If you've noticed problems, let the seller know, make a lower offer, and see how he reacts. If you're satisfied with everything, make your offer, complete the sale, ride or transport your bike home, and finalize your paperwork.
Time to Customize Your Used V-Twin Cruiser Bike
After buying a used V-twin cruiser bike, you'll want to personalize it to fit your riding style. At West End Motorsports, we bring you customized parts and accessories for v-twin cruiser motorcycle riders that you can install yourself. We have everything you need to upgrade and customize your used bike from aftermarket exhausts systems, seats, fairing kits, windshields, tires, riding gear to luggage, all from brands you trust.
Shop aftermarket bike parts and more now. Enjoy free shipping on orders over $99 and a perfect fitment guarantee with every part we sell. Contact our experienced experts for more tips on our used motorcycle buying checklist.