Posted by Wiley Moody on Mar 16, 2020
Nothing beats the experience of riding a customized V-twin cruiser bike. We all want to get the most out of our cruiser bikes. Whether you're working on your first cruise motorcycle or you're a lifelong diehard, you want your bike to feel and look complete. If you're looking for customizable parts and accessories that you can install yourself for your V-twin cruiser motorcycle, West End Motorsports is your reliable aftermarket supplier online.
Here's an overview of our motorcycle parts catalog.
Custom Motorcycle Exhausts
Whether you want better exhaust sound, a custom look on your bike, or improved performance on your Harley, Yamaha, Indian, Victory, Honda, Suzuki, European, Kawasaki, Sportbike, or Can-Am cruiser bike, getting the right aftermarket exhaust can help you complete your upgrade. West End Motorsports offers a wide range of custom exhausts and kits that deliver excellent sound, great performance, and impressive aesthetics that turn heads on the road.
Find a list of motorcycle exhaust parts from leading brands like Vance and Hines, Bassani, Cobra Motorcycle Exhaust, Freedom Performance, Khrome Werks, MagnaFlow, RCX Xhaust, Rinehart Racing, S Exhaust, and SuperTrapp. Enhance your ride with custom exhausts from our motorcycle parts catalog and enjoy guaranteed fitment.
Aftermarket Motorcycle Seats
Whenever you hit the road on your V-twin cruiser bike, your riding comfort always comes to mind. While a rumbling exhaust attracts attention and upgraded mufflers are eye-catchers, your seat gives your bike a distinctive look while also providing the comfort you need on open roads. The right seat fits perfectly and is of the highest quality.
Check out our selection of aftermarket motorcycle seats from trusted brands in the market, such as British Customs, Clearance, Mustang Seats, Drag Specialties Seats, Kuryakyn, LePera Seats, Roland Sands Design Seats, Saddlemen Seats, and Z1R Seats from our motorcycle parts catalog. Like our other parts, we guarantee perfect fitment.
Aftermarket Motorcycle Fairings
A smooth ride on your cruiser bike is undeniably a great feeling. Adding aftermarket motorcycle fairings on your bike can help reduce air drag and headwind. At West End Motorsports, we bring you a selection of fairings from established brands like Memphis so you can improve the style of your bike and make it more aerodynamic.
Installing fairings helps you create a smoother, streamlined look and ride. Get the look you want with fairings from our motorcycle parts catalog. With comfort in mind, these fairings are perfect for cruising. We stock brands like Memphis Shades, Hoppe Industries, Arlen Ness, Clearance, Hogtunes, Kuryakyn, National Cycle, Paul Yaffes Bagger Nation, and RWD. Check out featured fairing packages in our list of motorcycle parts.
Aftermarket Windshields
Motorcycle windshields for cruiser motorcycles are designed to create a physical barrier between you and the wind and airborne objects in your driving path. The right windshield improves riding safety and comfort by diverting the air over your head. When combined with fairings, cruiser bike windshields help reduce wind drag that affects performance.
Stay safe as you ride and add aesthetic balance to your fairing assembly with a custom windshield assembly that makes your cruiser bike stand out. Shop our motorcycle parts catalog to find windshields from trusted brands like Memphis Shades, Klock Werks, National Cycle, Wind Vest, Slipstreamer, Ciro, Clearance, Hoppe Industries, Kuryakyn, and Show Chrome.
Motorcycle Tires
Motorcycle tires play a huge role in ensuring riding safety and comfort on the road. If you're looking for replacement tires for your Harley Davidson, Victory, Indian, or Yamaha cruiser bike, you have to shop through all of the top brands for your motorcycle. West End Motorsports makes it easy for you to find the replacement tires and accessories you need.
Shop top brands like Avon Tires, Bridgestone, Continental, Dunlop, IRC Tires, Kenda Tires, Metzeler Tires, Michelin Tires, Pirelli Tires, and Shinko Tires. Browse our motorcycle parts catalog to find the right tires for your motorcycle and learn how to replace tires.
Maintenance Kits and Components
When it comes to maintaining your cruiser bike, you'll need to have the right tools and components to get the job done. Cruiser bike owners are known for their love of custom modifications on their bikes. Whether you're a beginner or already own a few hot-rods, DIY maintenance and repairs are part of owning a cruiser bike. Check out our list of motorcycle parts.
Get the maintenance kits and accessories you need, such as battery and universal chargers, jacks and stands, cleaners/polishes/washes, and tire care products at our online store. Shop brands like Battery Tender, Biker's Choice, CruzTools, Drag Specialties, Hardline, Jims, Plexus, Protect All, and Slime in our motorcycle parts catalog.
Motorcycle Luggage
If you love long rides on your cruiser bike, you know how important it is to have the right motorcycle luggage for your storage needs. Whether you're taking on highways, mountain passes, or windy countryside roads, you need a reliable way to transport your stuff with you. Our saddlebags are designed to provide you with easily accessible and useful storage space for your personal items and tool kits.
From saddlebags to sissy bar bags, tour packs to tank bags, there is a wide variety of motorcycle luggage solutions to choose from. West End Motorsports brings you stylish and flexible luggage bags that are created for heavy-duty use with durable, hardwearing materials and excellent craftsmanship. Shop our motorcycle parts catalog to find luggage brands like All American Rider, Boss Bags, Hopnel, Kuryakyn, Kuryakyn Luggage, Leather Pros, National Cycle, Saddlemen Saddlebags, Saddlemen Seats, and Willie & Max.
Motorcycle Riding Gear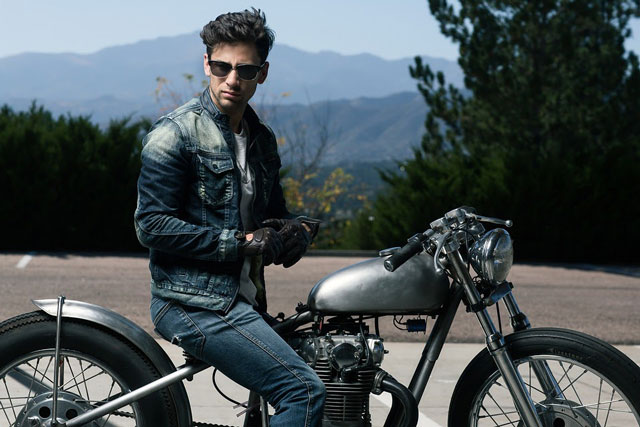 We know that you love cruising on your motorcycle and enjoy the freedom and entertainment you get while doing so. But when on the road, safety is a priority. To ensure your own safety and that of others on the road, you need to invest in proper riding gear. Getting the right and durable gear isn't always easy with so many options to choose from.
At West End Motorsports, we make it easy for you to find the riding gear you need for your V-twin cruiser bike, including helmets, gloves, tee shirts, rain gear, and other apparel. Shop from leading brands like AFX, Biltwell, Fly Racing, Highway 21, Hopnel, Nelson Rigg, Sena, TAB, WEM Brand, and Z1R Apparel in our motorcycle parts catalog.
Plow Packages for ATV/UTV
When winter comes around, the issue of moving snow efficiently presents itself. Having the right plow for your ATV or UTV is vital in helping you move snow, gravel, sand, and dirt with little hassle. Purchasing the right plow kit is vital in making your work easier when it matters most. You want to be sure that your plow can handle the toughest conditions of snow, ice, or sand.
Check out our plowpackages for ATV/UTV that are designed to kick winter right in the snowballs. Our complete plow kits feature convenient attachment technology to ensure easy installation and removal, and superior performance whenever you need it. If you're looking for premium-quality snowplows, get our Polaris, Honda, and Yamaha plows from leading brands like Airhawk, ATV/UTV Plow Packages, Boss Audio, Hoppe Industries, KFI, and Sedona.
Shop Our List of Motorcycle Parts
Visit our West End Motorsports online store to shop customizable parts and accessories for your V-twin cruiser bike at our motorcycle parts catalog today. We ship worldwide every day. Our goal is to give you the best value for your money. Our lowest price guarantee is simple: our experts will match or beat the lowest price on the internet. Contact us today for a shipping quote and estimated transit time.