Posted by Wiley Moody on Jan 24, 2020
If your motorcycle is bogging on acceleration, you're not alone. In fact, the 'bog' problem is not new. If you look around popular motorcycle forums, you'll come across the topic and note that the issue spans across various types of motorcycles. Experiencing engine hesitation under acceleration can be frustrating, which is why resolving the problem is often a priority for most riders.
So, why does bogging happen on acceleration?
First Understand the Different Types of Bogs
According to motorcycle experts, there are different types of bogs.
Lean Bog - This is caused when there's too much air and not enough fuel in the engine. You've probably experienced this bike acceleration problem when you run out of fuel on your motorcycle or if you've opened your airboxes. This feels like hitting the kill button on the engine for a second.
Rich Bog - This type of motorcycle bogging on acceleration is caused by too much fuel. This bog often feels like a 'burble.' Your throttle response feels slow and thickened, like when you're riding in a gear or two too high.
Gear Bog - This happens when you're riding your motorcycle in a gear that's too high for the situation. The feeling is slow and sluggish like you're riding through a mud bog.
Causes of Bogging and Possible Solutions
There are different reasons why an engine bogs out under acceleration:
The most common reason is that your air/fuel mixture is inefficient or dirty. If your air filter is clogged or has a lot of dirt. It could be bogging down the engine. Consider cleaning the air filter or replacing it with an air kit to see if the problem is resolved.
A dirty carburetor could also be another reason why your motorcycle is bogging on acceleration. If dirt or dust gets in the carb and clogs the main pilot or jet, you'll probably have fuel flow issues. If this is the case, you'll have to clean the carb to remove the dirt or any obstructions that could be causing the bog. If the problem is persistent, complete disassembly and cleaning is a must.
Carb adjustment issues can also cause bogging on acceleration. Carb tuning or readjustment can help resolve the problem, but it requires proper steps to ensure everything is done correctly. If you're new motorcycle engine tuning, work with an experienced mechanic or look into purchasing a tuner for fuel injected bike models.
Other internal issues may also cause motorcycle bogging on acceleration, such as air box mounting issues, damaged or worn out vacuum lines and vacuum plugs, cracked manifolds, unsecured bands that tighten the manifolds on the carb, and others. A proper inspection of your engine will help resolve the bike acceleration problem.
One Last Thing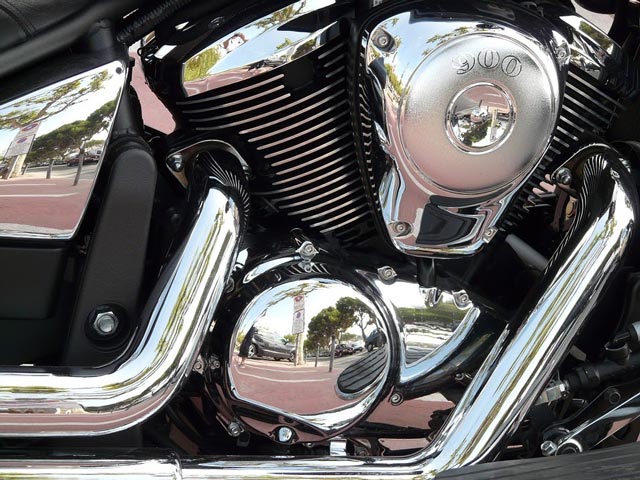 If your V-twin motorcycle has been running fine and starts bogging, it means there's something wrong with the assembly or a component. Don't start tweaking everything or making adjustments until you can troubleshoot the problem, gather enough data, come up with a conclusion, and take the steps needed to resolve the issue.
Contact West End Motorsports
If you're experiencing motorcycle bogging on acceleration, get in touch with our experts at West End Motorsports to get the tips you need to resolve the problem. Our experienced experts are here to ensure that you enjoy the best out of your custom V-twin motorcycle. We also sell some of the best aftermarket custom parts and accessories, including exhaust kits, seats, tires, windshields, fairings, luggage bags, and riding gear to complete your custom ride.
Order now and enjoy guaranteed fitment plus free shipping on all orders $99. If you have any questions, please contact us.