Posted by Wiley Moody on Mar 9, 2020
Just because your V-twin cruiser motorcycle has never been stolen doesn't mean it won't happen. All kinds of motorcycles get stolen from all sorts of places. As a motorcycle owner, your first priority is to secure your bike. An unsecured bike is an easy target for thieves as it can be lifted or bundled into a van, wheeled away, or even ridden away never to be found.
That's why investing in a reliable motorcycle security system that combines different methods is critical. The more secure your bike is, the less attractive it will be to thieves. Here's what makes a great motorcycle security system.
Ground Anchor
Most motorcycles are stolen by daring thieves right in the vicinity of the home or apartment parking lot. Using a ground anchor can help you stop your V-twin motorcycle from being stolen by acting as a sturdy, immovable object. A ground anchor can be fixed to the floor or a wall and allows you to fit a motorcycle security chain and lock from it to your cruiser bike.
Ground anchors are perfect for places where you frequently park your motorcycles, such as your home or your business. If you decide to fit a ground anchor yourself, be sure to follow the fitting instructions. However, ground anchors are best installed by an expert. As one of the core elements of your motorcycle security system, ensure that the anchor you choose is approved.
Security Chain and Padlock
A motorcycle chain and padlock is another reliable way to lock your V-twin cruiser bike as it stops would-be thieves from stealing your bike when attached to an immovable project. Most chains and padlocks are fitted around the wheel or the bike's frame to prevent theft. Get a high-quality and independently approved chain and padlock to secure your cruiser bike.
Ensure that your chain is attached to an immovable object like a lamppost. The chains and padlock should also be kept off the ground and be looped around the bike's frame. That means you have to be careful about the length of the motorcycle security chain for your security system. Leaving the chain on the ground leaves it vulnerable to smashing with a sledgehammer.
Garage Door Defender
If you leave your V-twin cruiser motorcycle in your garage overnight or even during the day for an extended period, a well-secured garage door is your first line of defense against thieves. A professional-grade garage door defender can be fitted on your garage door, including up-and-over garage doors and roller shutters.
When installing a garage door defender as part of your motorcycle security system, make sure it's fitted to the center of the garage door and to a solid base. Confirm if the garage door defender is appropriate for your door type.
Disc Locks for Extra Security
Disc locks are an additional layer of security that can discourage thieves from stealing your bike. Make sure you have disc locks for both the front and rear wheels. These locks are portable, can easily be taken on the road, and are easy to fit. Make sure you use your disc locks every time you leave your bike.
Use disc locks in conjunction with other security devices such as a chain and padlock to improve your overall motorcycle security system. Consider getting those with an alarm to further deter theft. Experts recommend that you only use disc locks as an add-on to more secure measures like anchoring and chain and lock.
Motorcycle Alarm & Tracker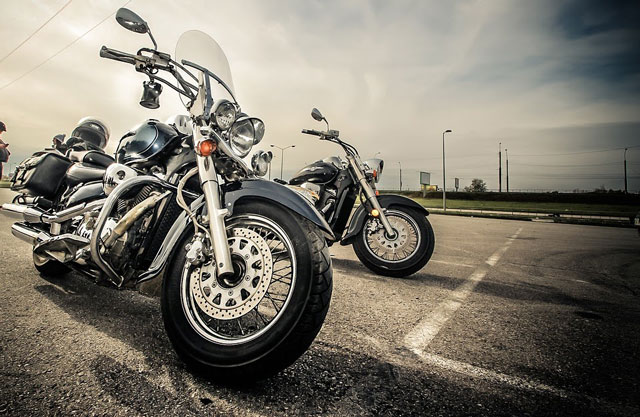 Installing a motorcycle alarm and a tracker can also help you improve the security of your V-twin cruiser bike, but on their own, they won't physically stop your bike from being stolen. Always use them in combination with more secure devices like motorcycle security chains and military-grade locks. Ensure that the alarm you get is accredited and installed by a professional.
Secure Your V-twin Cruiser Bike Today
Get the ultimate motorcycle security system to stop your cruiser bike from being stolen by using a combination of a ground anchor, security chain with a padlock, and disc locks. If you're looking for quality security devices for your motorcycle, including combination locks, grip locks, disc locks, or security chains, shop at West End Motorsports.
We also stock a variety of customizable parts and accessories for your cruiser. Shop by bike, category, or brand now. Order online and enjoy guaranteed fitment and free shipping over $99.