Posted by West End Motorsports on Jun 3, 2019
When you think of cruiser motorcycles, there's no doubt that they're the ultimate choice for real bikers. But if you're a tall rider, finding a cruiser that suits your seat height and ride comfort can be a bit troubling. For the best riding experience, you'll want to make sure that the distance between the seat and footpegs as well as the reach and height of the bars are just right.
Whether you're into classics or cutting-edge cruiser motorcycles, there's still plenty of choices when it comes to picking cruisers for lankier riders. While you could customize your bike with specialized aftermarket adjustments to suit you, we suggest narrowing down your selection with these stock options. Here are the best cruiser motorcycles for tall riders:
Ducati XDiavel
This Ducati model is the breakthrough of the renowned Italian brand into the cruiser market. The XDiavel is considered the cruiser of the future and is perfectly built for tall riders. With forward-position controls for a relaxed ride, tall riders get the best of a stretched position, ensuring full comfort, especially on long rides. The 29.7-inch seat height is also perfect for tall riders. With 152 hp and 93 lb.ft. of torque available at only 5,000 rpm, forward thrust is great.
Indian Roadmaster
If you're on occasional road tours, the Roadmaster offers a 26-plus inch seat height, a great wide handlebar, forward mount floorboards, and features that allow you to easily adjust wind protection to keep the ride comfortable for tall riders. Elements like the broad windscreen and front fairing, and lowers that come with vents so you can adjust airflow around the motorcycle as you wish to, make the Roadmaster one of the best cruiser motorcycles for tall riders.
Harley-Davidson Breakout
Recently revised in 2018, the Harley-Davidson Breakout is a head turner with amazing sound and a huge rear tire. Perfect for the laidback rider, this heavily-chromed cruiser comes with a stretched out riding position that suits taller riders. The Breakout is designed to provide an upright back posture while reaching the forward control foot pegs and lowered handlebar. The smooth-running 1,746cc Milwaukee-Eight Big Twin engine ensures a responsive ride.
Indian Chief Classic
The Indian Chief Classic is one of the most iconic and decorated motorcycles. With its timeless riding style combined with the ABS brakes, updated aluminum frame, and its legendary power produced by the award-winning Thunder Stroke 111 V-Twin engine that offers more than 119 ft-lbs of torque, this is a perfect cruiser for riding enthusiasts. The Chief Classic is no doubt one of the best cruiser motorcycles for tall riders.
Vulcan 900 Custom
If you're looking for a good mid-sized cruiser but don't want a huge bike, the Vulcan 900 Custom is the perfect fit. This cruiser comes with forward-mounted footpegs that enable tall riders to stretch out with ease and a long rider seat that provides enough room to move around. If you want to stand out from the crowd, then you need to ride a bike that has all the style and presence of a true custom cruiser. The Vulcan 900 offers just that.
Honda Fury
Definitely one of the best-looking cruiser motorcycles on the market with a wide triangle that allows taller riders to stretch their legs and arms out more, making it one of the best cruiser motorcycles for tall riders. The handlebar sits a bit higher and the forward controls are directly under the cruiser's grips, making it a popular choice for keeping tall riders comfortable all day. The seat is higher off the ground than it actually looks.
Harley-Davidson Heritage Classic
Built as a pure cruiser, the Harley-Davidson Heritage Classic makes a great ride for tall riders who enjoy the laid back ergos of Harley-Davidson. With forward-mount floorboards and a 26-plus inch seat height, along with a tall and wider handlebar, lankier riders can enjoy an open and relaxed rider triangle than any other model in Harley's line of cruisers. The engine comes in two choices: the Milwaukee-Eight 107 or 114 V-twin for that extra oomph.
Shop Customizable V-Twin Cruiser Motorcycle Parts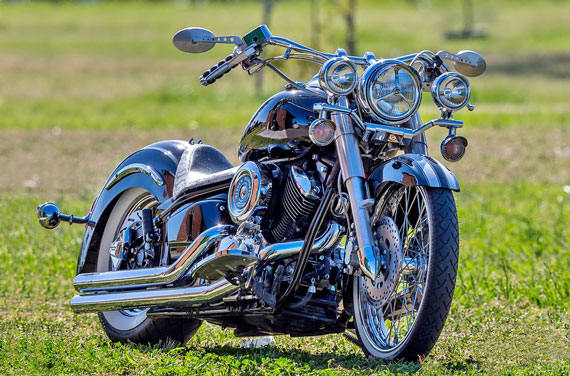 There are other types of cruiser bikes that can make our list of the best cruiser motorcycles for tall riders, but it all comes down to preference. Shopping around and reading user reviews can enable you to find the style of bike you need for your physique. The good thing about most V-Twin cruisers is that you can customize them further to achieve the best rider triangle and comfort level for you.
Get started at West End Motorsports today! We're a leading aftermarket supplier of customizable parts and accessories for V-Twin cruiser motorcycle riders. Shop online and enjoy guaranteed fitment and free shipping on all orders over $99.