Posted by Wiley Moody on Dec 10, 2018
Winter time is the time to upgrade. And in one shot you can get a complete S&S Cycle Power Package for your Milwaukee-Eight. The kit takes you up to 124 inches on Water or Oil Cooled engines The kits include Chain Drive cams or Gear Drive cams and offer Highlighted Cylinder Fins or plain black. The Kings of Convenience (us) will ship you the matched parts you need all in one money saving kit. The kit will turn your beast into a monster!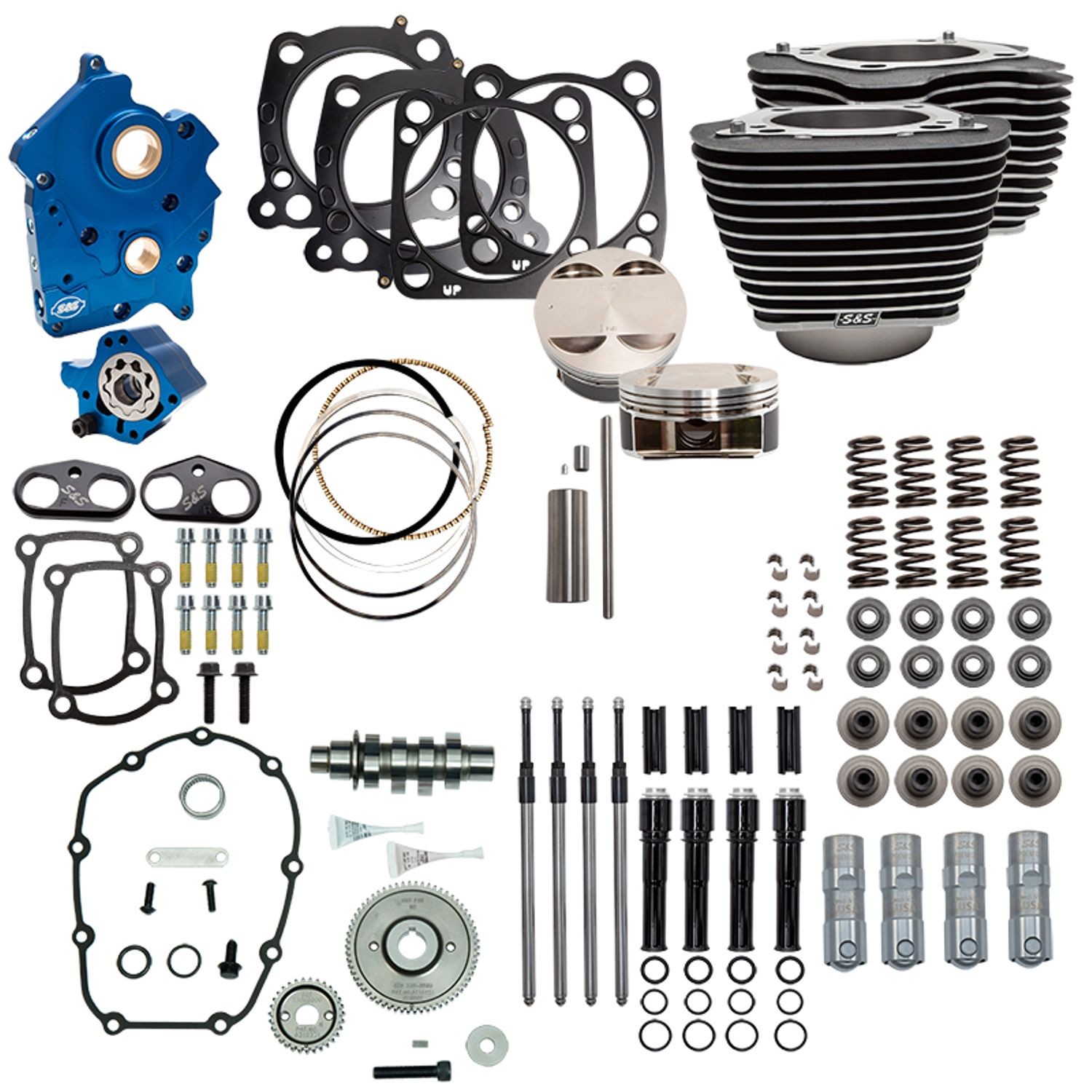 The heart of the Big Bore Kit includes:
107" to 124" Big Bore Kit
Winkle Black Finish with Fin Highlighting
Bolt on kit. No case machining required
4.250" bore
Forged Pistons
11.1: Compression Ratio
Specs on the Oil Pump/Cam Plate are:
Precision Machined from Billet Aluminum
Blue Anodized Finish
Passage Plugs Removable for servicing
Independent Scavenge Sections for Flywheel Cavity and Cam Chest
Debris Screens in both scavenge pickups
Magnet in Cam Chest to help to stop debris from entering oil pump
Increased Flow Capacity on both Feed and Scavenge side
Adjustable Pressure Relief Valve is adjustable with unit installed in engine
Replacement Quickee Pushrods:
Quickee Pushrods
Gloss Black or Chrome pushrod tubes
New Tappets:
Tappet Cuffs:
Hard Anodized Black Coating
Billet Aluminum Construction
Stronger than Stock Material eliminates Distortion
Improve tappet stability in high lift and high rpm situations
Performance Cam offering a big boost of performance:
S&S 550 Cam- Designed for Big Bore Applications
550C Chain Drive or Gear Drive
New Performance Valve Springs:
Work well with cams up to .605 lift
High Performance Conical Single Wire Spring
Includes all gaskets, bearings, and hardware required for installation
The whole kit is made in the USA and the parts are matched together to offer maximum performance, without having to scramble around gathering parts and verifying that they will work together. This kit is ready to install by your local shop and just requires the proper fuel tuning to dial in the power.
Requirements: Purchase for your local dealer - Harley-Davidson® M8 Head Bolts part # 10200303