Posted by Wiley Moody on Mar 13, 2020
Staying safe on a motorcycle is a primary concern for any rider. A safety-rated riding helmet is a must-have when riding your V-twin cruiser bike. With recent helmet innovations, riders can enjoy safer rides and more comfortable fitting. High-tech motorcycle helmets offer new technology that helps riders increase awareness of their surroundings while offering better protection.
From motorcycle helmet electronics to cooling systems, there's a lot on offer. But are these high-tech helmets really worth the hype? Here, we look at some of the latest innovations in motorcycle helmets and how they improve rider safety as part of essential riding gear.
Heads-Up-Display (HUD) Technology
HUD technology in motorcycle helmets is designed to solve one problem that has plagued most bike riders: not being able to see behind you. Unlike cars and trucks that have a rear-view mirror, this feature can't be translated into a motorcycle's design. Improving safety for riders is a major motivator for high-tech motorcycle helmet manufacturers.
HUD motorcycle helmets offer a real-time display of what is going on behind you as you ride your V-twin motorcycle. There are also HUD attachments that make it easier to transform any helmet into a HUD-capable helmet. The displays vary in features but can show a wide range of information on the visor screen, including traveling speed, GPS data, call information, and more.
App-Powered Audio
Thanks to the power of Bluetooth and custom apps, some helmets on the market now come with built-in HD speakers to listen to your favorite music on the go. Some of these helmets come with this music-feature installed from the factory. There are also kits available to convert your favorite motorcycle helmet.
Other high-tech motorcycle helmets come with an intercom that lets you communicate with other riders and even take calls and control music through voice prompts. Most of these helmets come in a sleek and seamless design, with a slim profile that stands out. If helmet-mounted audio doesn't work for you, a motorcycle soundbar could be a perfect fit.
Motorcycle Helmet Cameras
As more riders demand improved safety features in their riding gear, more motorcycle helmets are coming with built-in cameras. While most riders opt to add cameras like the proven Go Pro on their helmets, there are great cameras that come integrated at the top of the helmets. They offer 360° wide-angle views to capture every aspect of a ride with up to 4K video recording.
High-tech motorcycle helmets with built-in cameras are becoming the norm, especially when the cameras are detachable, which allows riders to unmount and mount the camera anywhere they like. Some helmets also come with specialized rear-view cameras that provide unhindered views of what is going on behind you on a HUD unit.
Emergency Response
New tech also promises helmets that will be able to send text and email alerts to selected emergency contacts in case of an accident. This feature works with a built-in or add-on camera mounted on the helmet and is a practical feature for solo riders. When an accident happens, the camera will automatically save the last several minutes of video, audio, and other data to keep a record of what transpired before, during, and after the accident.
LED Lights on Helmets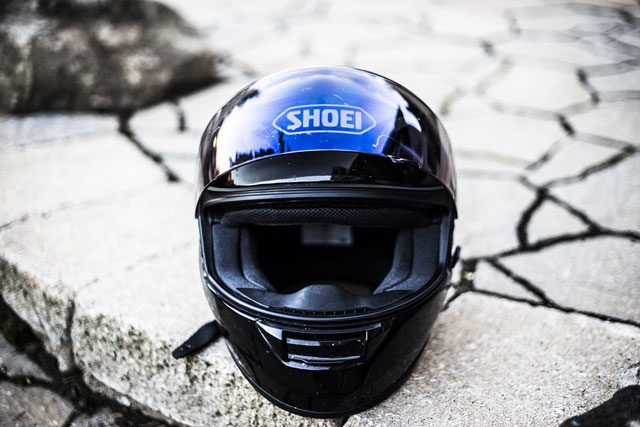 Another innovative technology in high-tech motorcycle helmets is LED lighting. Being seen clearly is vital for any motorcycle rider, no matter the conditions. LED lighting on motorcycle helmets is greatly improving safety in different ways. LEDs are being incorporated in the design of the helmets as turn signals, brake lights, or just to improve rider visibility on the road.
Shop Helmets at West End Motorsports
If you're looking for top-brand motorcycle helmets for your safety needs, get started at West End Motorsports. Shop helmets from Vega, Skid Lid, Biltwell, and more. We focus on what's best for the customer and have in-depth expertise regarding what works for your motorcycle. Order the best high-tech motorcycle helmets and motorcycle helmet electronics now.
Check out our customizable parts and accessories for your V-twin bike and enjoy guaranteed fitment and free shipping on orders over $99.