Posted by Wiley Moody on Jan 20, 2020
If you're thinking of custom motorcycle upgrades, a sound bar probably isn't the first thing that comes to mind. But the truth is, having a quality motorcycle sound bar can open a whole new world of opportunities for you. Imagine actually enjoying every moment of your ride, listening to music and receiving navigation updates clearly through the wind. Installing a sound system takes the experience to the next level with regards to entertainment and efficiency.
Here are the reasons why you should get a sound system for your V-twin cruiser:
Make Your Trips More Comfortable
When riding your motorcycle across long stretches of the highway, the silence around you can be comforting. Apart from the sound of your aftermarket exhaust, which you love, such rides can sometimes feel lonely and even get monotonous, especially if you ride a lot. Install a motorcycle sound bar to give yourself a boost on long rides or on your commute to work.
A custom sound system like the Kuryakyn "Road Thunder" Plus sound bar is a perfect fit for your V-twin cruiser. It features motorcycle handlebar speakers and amp to take mobile-audio on your bike to the next level. It's the number one selling bolt-on audio system for V-twin cruisers today. A great soundbar with incredible performance and versatility is all you need to make your long rides more enjoyable.
Perfect Outdoor Entertainment
With a high-quality sound bar on your bike, you have the perfect outdoor entertainment system. Most V-twin motorcycle enthusiasts spend a lot of time around their bikes. You could be cruising with friends every weekend, working on your car or motorcycle in the garage, barbecuing in the backyard, or mowing the lawn.
A motorcycle sound bar lets you enjoy outdoor entertainment. You can now play your favorite songs and impress your friends no matter the occasion or where you are. The instant entertainment that a sound bar offers on a motorcycle is great for anyone who wants a fun upgrade for their cruiser bike.
It's a Great Way to Showcase Your Bike
If you're planning on participating in V-twin motorcycle roadshows or competitions, you'll want to upgrade your bike with features like a motorcycle sound bar and additional custom parts like fairings, a classy luggage bag, new tires, and stylish riding gear. Judges in such shows look for these types of upgrades. Installing an audio system makes your bike look more appealing to attendees, other riders, and those rating your ride.
Increase Your Motorcycle's Resale Value
Installing a sound bar on your motorcycle almost certainly increases your motorcycle's resale value. Most buyers will pay more for luxury upgrades such as this. Instead of buying a cheap audio system, invest in a quality system that will pay off later down the road. Sound systems like Kuryakyn Road Thunder Plus and Bike Bike Parts Bluetooth Stereo system are great considerations.
Enjoy Great Additional Features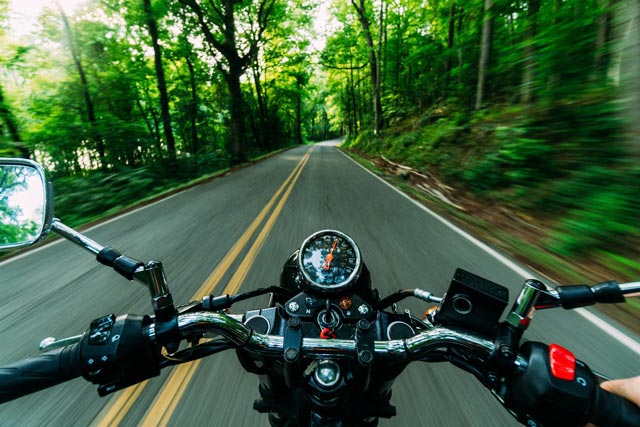 Most motorcycle sound bars come with additional features like Bluetooth receiver with NFC pairing for easy music play, GPS voice navigation, all-weather construction, water-resistant functionality, and amplifier for amazing sound. Such features improve the overall experience of having a sound system on your cruiser bike, and significantly increase safety while riding.
Shop Portable Motorcycle Sound Systems
If you're looking to buy a portable motorcycle handlebar speaker and amp for your V-twin cruiser, get started with our selection of sound systems at West End Motorsports. Shop from top brands like Kuryakyn and Boss Audio and enjoy free shipping on all orders over $99 plus guaranteed fitment. Contact us if you have any questions about our motorcycle sound bars.