Posted by Wiley Moody on Nov 5, 2018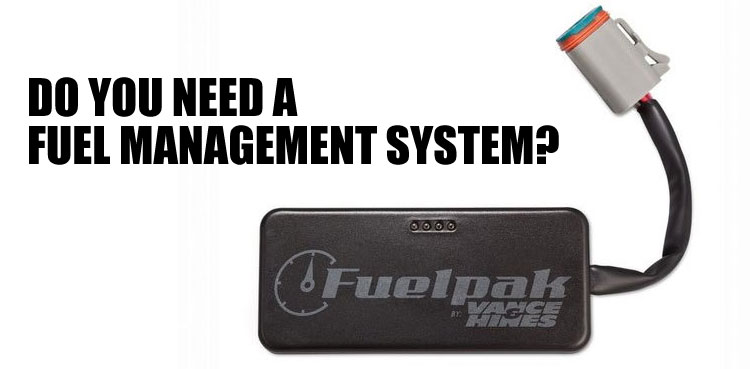 Vance & Hines FP3 Auto-Tuner for Harley-Davidson Models
It's been said you if you're just installing slip-on mufflers and not adding a high flow air filter kit, that you can get away without having your engine tuned. While this may be true, especially if your motorcycle has a catalytic converter in the head pipe, West End Motorsports always recommends having your bike properly tuned to ensure optimal performance and longevity of your engine and exhaust components.
DynoJet Power Commander V for Harley-Davidson and Metric Cruisers
Anytime you change exhaust you're changing the amount of back pressure felt by the engine, which in turn affects your Air/Fuel ratio required for a complete and efficient combustion. Since the muffler is where the majority of the back pressure to the engine is generated, it is very important to make sure your engine is properly tuned. Many riders think they do not need a fuel management system and that their bike will make adjustments itself reading the changes through the stock O2 sensors. Unfortunately out of the dealerships, most motorcycles still run in open-loop mode during idle and lower RPM levels, meaning that they are still using the factory map on the bike's ECU which is tuned for factory exhaust and only switches to closed loop mode after a certain throttle position.
Cobra FI2000 PowrPro Black Auto-Tuner for Harley-Davidson and Metric Cruisers
Motorcycle manufactures do this to ensure they pass EPA regulations. For this reason motorcycle manufactures also typically program their bikes to run very lean in this RPM range which robs you of power and torque, plus causes your engine to run hotter, breaking down oil and damaging critical components. With a proper tune, your engine will run cooler and have more available horsepower where you need and want it. The throttle also becomes more responsive and you'll notice a smoother power delivery.
Many tuners on the market today can be set up by you, the consumer, allowing you to easily dial in the right amount of fuel right from your smart phone or laptop. In most cases, you do not have to dynotune when adding slip on mufflers, saving you hundreds of dollars at the dealership.
Call 800-520-8525 if you have any questions about tuning your bike and we will help you choose the right tuner for your situation.