Posted by Wiley Moody on Aug 13, 2018
A fuel management system is required when doing any kind of modification to the exhaust or intake system that changes the amount of air passing through the engine. Getting the perfect air /fuel mixture for your modification is the job of the fuel processor. Deciding on which processor to choose is based on the level of performance upgrade you're having installed.
If you're deciding on going with a Stage 1 Upgrade, consisting of an exhaust system, high flow air cleaner kit, and a fuel tuner, the most expensive tuner may be a lot more than you require to get your engine running correctly. Let's run down some of the more popular tuner on the market and what they do. Stage 2 performance upgrades and up, you may want to explore some of the more powerful fuel tuners for doing dyno work and dialing in high horsepower engine modifications.
Some Assembly Required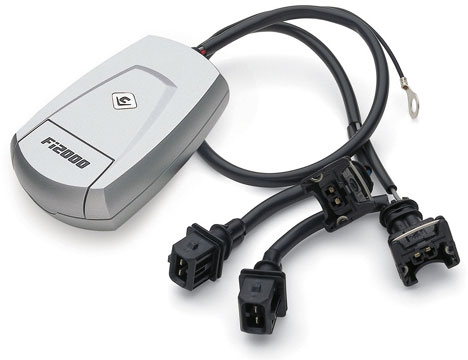 No assembly really, but a little simple adjusting. Plugging in to your bikes OEM connectors, Cobra's Fi2000 increases horsepower and torque by optimizing stock lean air/fuel ratios. No computer downloads are necessary. They come pre-configured from the factory for your model motorcycle, and is easy to adjust should your specific custom application need it.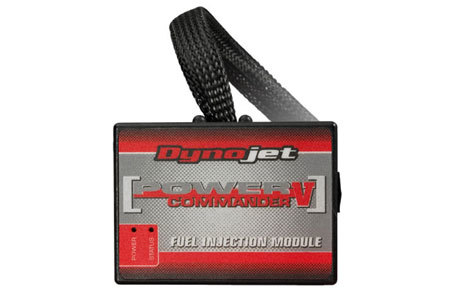 In similar design is the DynoJet Power Commander V. This unit is controlled by laptop via USB port. The maps to choose from are per-configured as well and are easy to download. But on the more technical side the Power Commander V is capable of allowing each cylinder to be mapped individually and for each gear with the gear position input connected.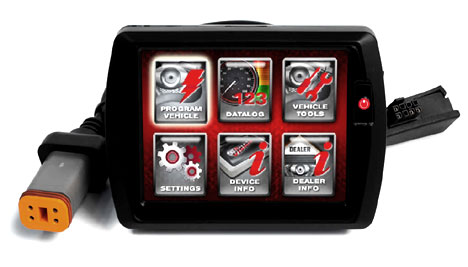 Dynojet offer their Power Vision fuel processor that you can adjust through the included LED screen and is a user friendly set up. This style tuner is a Flash Tuner and replaces the existing MAP already downloaded in your bike.You don't need a computer to complete your installation. Simply select the tune you want and respond to the on-screen prompts to flash the tune to your motorcycle.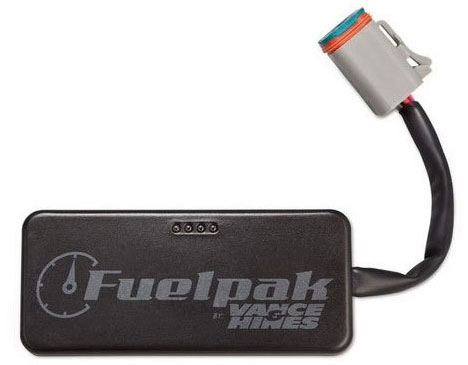 The Vance & Hines FP3 fuel tuner plugs directly in your bike diagnostic port and allows you flash tune from your smart phone. When the unit is plugged in, you can gather information on the performance of your engine as well as diagnostic functions. The FP3 can also be put into Auto Tune mode, and the unit gathers it's own information and formulates the most accurate map based on your current engine mods. When you're done tuning, unplug the unit and store it in your tool box until you need it again.
Plug and Play
When looking for simplistic, the Cobra FI2000 PowrPro Black tuner is the way to go. This processor is a true auto tuner. No dials or buttons of any kind. The unit updates the air /fuel mixture 80 times per second for a consent fuel tune. and will properly tune for any engine mod installed. The PowrPro Black has a smart phone app so you can check you engine's performance. Always perfect fuel settings in any condition with any exhaust system, with any engine modification.
On The Dyno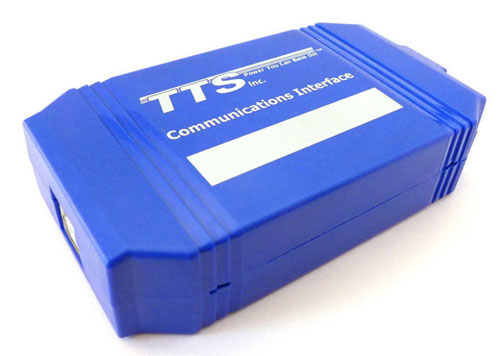 When going for bigger horsepower, a more powerful tuner is required. The TTS MasterTune system includes three powerful Windows based programs (MasterTune HD, DataMaster HD & VTune) designed specifically to tune Harley-Davidson engines. With the MasterTune System, you can: Calibrate factory speedometers, Correct cruise control and 6th gear light (Primary Ratio Correction) issues, Trims spark tables automatically while correcting the fuel system, Analyze the engine's actual volumetric efficiency, Reduce tuning time for a smoother running, more responsive engine. This unit is the most selected aftermarket tuner by Harley techs.
All The Bells. All The Whistles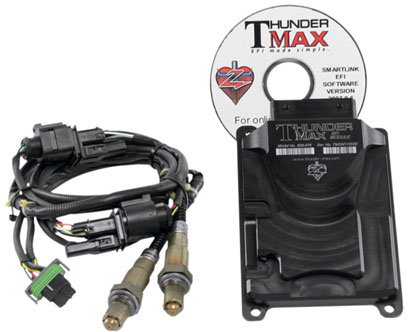 ThunderMax ECM with Auto-Tune module mounts conveniently in place of the factory ECM and plugs in to the existing harness. Utilizing wide-band O2 sensors, the tuner works as a closed-loop control system to continuously self-adjust and properly tune the motorcycle's air/fuel ratio for any riding condition. Simple installation by just replacing the factory ECM, install new O2 sensors and harness, load the correct map for your bike, and ride! Hundreds of maps available to download for your bike (based on model, engine size, exhaust system air cleaner, pistons, cams, etc.). Load the map of your choice and the integral auto-tune will do the rest. Does not require dyno tuning saving you money at the dealer.
Call 800-520-8525 M-F 9-5:30 to talk to a sales rep to discuss your best options.