Posted by West End Motorsports on Feb 13, 2019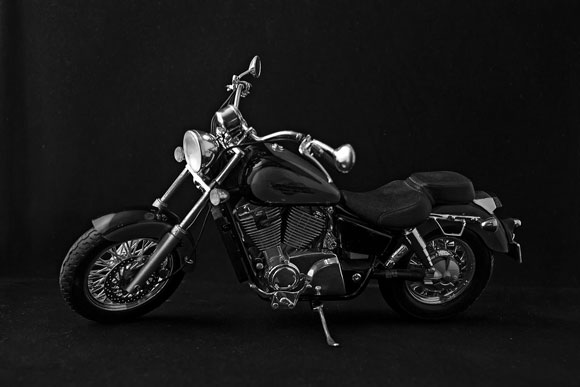 With the right aftermarket parts, your Honda VTX 1800 can go from a fun stock ride to a high-energy performance motorcycle that turns heads. As one of the most popular motorcycles Honda produces, parts manufacturers have taken notice. The market is filled with every part, component, and accessory imaginable, and the wide variety of styles, prices, and categories of gear can leave many riders asking where to start.
The Honda VTX 1800
Honda had been known for smaller, underpowered motorcycles when it brought the Honda VTX 1800, at the time one of the largest and most-powerful V-twin powered production bike in the world, to market. Packed from the go with performance parts, the Honda VTX 1800 boasted 101 hp at 5000 rpm, more than enough power to garner an instant following of die-hard riders. While there may be production bikes with larger engines today, the VTX series remains well-accommodated by aftermarket parts suppliers and manufacturers.
From Stock To Custom
Aftermarket motorcycle parts can generally be divided into one of three categories: [erformance, comfort, or aesthetics. While some Honda VTX 1800 parts will cross these boundaries, for instance, a sweet slip-on exhaust with some awesome tips, their primary use falls into one of the three.
Comfort - Comfort parts and accessories are meant to make riding gentler. Whether it's relieving a sore back, giving your body a break, or just creating a more pleasant ride, these components help the open road feel just a little bit warmer.
Performance - The VTX 1800 is a powerful bike straight from the factory, but that doesn't mean a little tinkering can't make it better. These components work with your engine to create more power or efficiency to get the absolute most from your motorcycle.
Aesthetic/Other - If it doesn't affect your ride's performance or how the bike feels to your body, Honda VTX 1800 parts often fall into this catch-all category. Some of these accessories may add additional functionality to your ride or add some features you want, but they better look good doing it.
The Most Popular Aftermarket Parts And Accessories
Hitting The Road Harder
For many riders, performance is the most important aspect of their bike. The roar of the motor as they power down a lonely stretch of highway gets their juices going, and they expect to feel those horses leap when they crank the throttle. If you want more power from your bike, here are some good places to start:
The Fuel Management System - Also known as a tuner, fuel processor, or ECM, adding a premium fuel management system to your bike gives you an optimized ride and helps make sure you aren't wasting money on expensive aftermarket Honda VTX 1800 parts that you aren't getting the most out of. A tuner maps your bike's components and adjusts the engine's air-fuel mixture and ignition to work better with them. Both programmable and auto-tune models are available to give you a great ride.
Custom Exhausts - Whether you want to go custom all the way to the heads or just slip on some pipes and go, exhausts are one of the first projects most riders do when they start working on their bike build. A custom exhaust system can help the performance of your bike by changing the amount of back pressure on the engine, plus they usually sound better than the stock pipes. A variety of coatings, pipe styles, and tips are available so you can truly add your personal touch to the appearance of the bike.
High-Performance Tires - The tires on your motorcycle are responsible for transferring all of that big V-twin's power to the road, propelling you down the highway, making them one of the most important Honda VTX 1800 parts that impact not only performance but safety. If they lose traction, you could lose power or even control of the bike. Premium tires are designed to grip the road to give your bike the traction it needs through spring showers, summer sun, and those early fall snows that like to come as a surprise. Higher quality rubber compounds provide more durability and resistance to temperature changes and road wear, so don't skimp on the grip.
Longer Leisurely Rides
Performance is great, but some riders just want to enjoy the ride, and that can be hard to do when the aches and pains of the road start to mount. Luckily, there are plenty of Honda VTX 1800 parts and accessories designed to make your bike more ergonomic or to alleviate other road conditions and situations that can lead to discomfort or fatigue. If cross-country trips are in your future, you should check out some of these.
Fairings - Long a staple of touring bikes, fairings can help keep you safer from small road debris while protecting you from the bone-chilling wind. Fairings cover the front of your bike, directing wind up and around your body, the bike's forks, and its handlebars. Some also house speakers, a radio, or storage cubbies for items you need to keep close at hand. This helps make even the longest trips on the windiest days a fun outing.
Custom Saddles - Whether your seat is old and broken down, you just want a little smoother ride, or you need additional support through your rump and tailbone, a new saddle can help. Custom seats are made with a variety of materials, including revolutionary support gels, that absorb shock and provide the stabilization that helps keep your lower back healthier, making these Honda VTX 1800 parts much sought after among older riders.
Back Rests - Another aide to your back, a backrest can help you relax on the road by providing a more comfortable supported riding position. Backrests come in several forms, from smaller seat inserts that just support your lower back, to larger sissy bars and racks that ride as high as your shoulders and offer additional storage space. When you're going to be on the road for hours at a time, it's important to make sure your bike offers the best fit for you.
All The Best Of All The Rest
From looks to functionality, there are plenty of Honda VTX 1800 parts and accessories that you just want on your bike. Take a look at these popular bike-build finishing touches:
Bags And Luggage - Stock motorcycles don't have the most storage space, but with a set of saddlebags or hard luggage, your gear can make the trip with you. They come in a wide variety of shapes and styles depending on the exact look you want from your bike. Whether you add one or two for convenience or festoon your motorcycle with cases and cubby holes, you can make sure you have all the space you need.
Chrome - Some riders like the pitch black look, but on most bikes, you're going to see the shining gleam of chrome--lots of it. There are chrome accessories and accents for almost every place on your bike, and many Honda VTX 1800 parts offer a chrome finish option so you can bling out your bike wheel to wheel, even as your adding comfort and performance upgrades to your ride.
Know Your Supplier
When you're buying your aftermarket parts and accessories, don't be suckered in by cheaply made junk on online auction sites or limited by the couple dusty parts at your neighborhood auto parts store. Make sure you're ordering from pros who know and love motorcycles. Get your Honda VTX 1800 parts from West End Motorsports today.