The top concern for any motorcycle rider is to be visible to car drivers. Unfortunately, thousands of fatal accidents involving cars and motorcycles happen each year. Up to 5,000 riders are killed in crashes each year, with the majority of crashes attributed to riders not being seen by drivers. This has made rider visibility one of the most debated topics in the world of motorcycle riding safety.
Why exactly don't motorcyclists wear high visibility gear? Here are some highlights to help us understand why most riders choose not to wear high-visibility protective gear, why some riders are more inclined to wear the gear, and what would motivate them to wear more visible gear.
Why Motorcyclists Choose Not to Wear More Visible Gear
Despite the fact that 37% of motorcycle riders are less likely to be involved in a crash when wearing more visible gear, most of them don't take this safety measure seriously. Multiple studies conducted have revealed that there are a number of reasons why most riders don't wear neon vests, shirts, helmets, or jackets with high-visibility features.
Most Don't Like the Way it Looks - Most motorcyclists don't like the bright yellow color of high visibility gear. In fact, some say that orange, purple, bright blue, or pink would be more acceptable. The appearance of the gear is considered a problem because it doesn't really fit in with the look of motorcycle riders who ride their type of motorcycle. For instance, cruiser bike riders love their dark clothing such as black leather jackets and pants, so wearing anything too bright seems a bit off.
Some Say it Makes No Difference for their Personal Safety - Most cruiser bike drivers, as well as experienced regular bike riders, feel they don't need to wear more visible gear to help them avoid accidents. Instead, they say that their riding skills and maneuvers preclude the need to wear high visibility gear. The fact that their bikes have loud exhausts and enhanced lighting is enough reason to warn drivers on the road. Due to differences in riding styles, most riders are willing to use jackets with high-visibility sections.
Are Certain Riders More Inclined to Wear High Visibility Gear?
Certain types of motorcycle riders are more inclined to wear high visibility jackets and other gear when riding. From cruiser bike riders, sportbike fanatics, scooter riders, touring bike riders to the growing community of female riders, the choice of visibility gear depends on the type of motorcycle they ride as well as riding conditions.
Cruiser bike riders and regular riders will likely wear high visibility gear when riding at night or in dangerous conditions.
Sports bike riders wear high visibility clothing and helmets about 23% of the time. The addition of color to make gear more attractive is something they would love to see more.
Male touring bike riders are more inclined to wear more visible gear as they spend more time riding on highways and going longer distances. However, they're chided for doing so by other bikers.
Female bike riders use reflective gear the most, but most of them are not inclined to do so. This is due to the fact that women dislike yellow and green reflective colors.
What Would Motivate Riders to Take Visibility More Seriously?
While every rider cares about their personal safety, most believe that more should be done to encourage them to wear high visibility gear. The most popular suggestions include: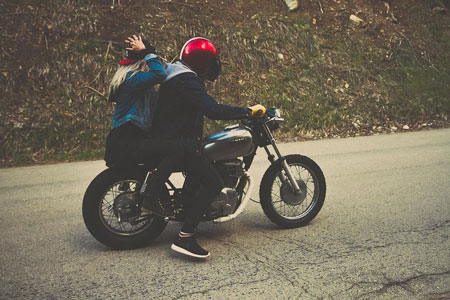 Creating more appealing high-visibility designs that will be appreciated by the masses.
Persuade major motorcycle manufacturers and gear equipment makers to incorporate some high-visibility elements into every piece of branded gear. This should be universal so that it becomes the norm to stop the stigma surrounding riders who wear "bright" gear.
Advertise across all platforms, both online and offline about the importance and benefits of wearing high-visibility apparel. Proper messaging is needed to convince riders.
Provide some financial incentives such as motorcycle insurance discounts.
Promoting the use of retroreflective materials that are more acceptable than high visibility colors and encourage riders to wear high visibility gear in low-light conditions as a first step.
Shop Safety Gear at West End Motorsports
If you're looking to improve your riding safety on your V-twin cruiser bike, feel free to shop our riding gear at West End Motorsports today. We stock the best gear for people who like to ride from leading brands like Z1R and LePera. Order online now.