Posted by Wiley Moody on Dec 9, 2020
Long motorcycle road trips make up for exciting memories and unforgettable experiences, especially when you do it across beautiful landscapes. Planning a trip to somewhere you haven't been yet is something you should often do. The thrill of exploring new places, seeing numerous sites, hearing new sounds, and traveling away from the crowds is exciting.
However, long motorcycle rides can be tiring, especially when you get to spend hours riding on the saddle. Whether it's your first trip or one of your many trips, there are moments when you'll feel tired and even sleepy when riding your bike. How do you stay awake and alert to ensure safe riding? Here are some motorcycle road trip tips to help you stay focused.
Get a Proper Night Sleep
We all know that poor sleep quality decreases mental performance and attention. It's even more important to know this when it comes to long motorcycle road trips. While the adventure, memories, and adrenaline of riding a road trip motorcycle are all thrilling, it doesn't take away the risk factor. So, you have to ensure you have a good night's sleep before riding.
Make sure you get at least seven to eight good hours of uninterrupted sleep, especially for long journeys. That will ensure you're fresh and ready for the trip the next morning. To make this easier, use these tips:
Turn off your TV, smartphone, PC, and other blue lights one hour before sleep
Meditate for at least five minutes before sleeping
Ensure your room is free of noises, completely dark, and with a comfortable temperature
Get Comfortable on Your Bike
Long motorcycle road trips can be hard on your body. So, make it easier by making yourself comfortable, alert, and well prepared. There are a few things you should do:
Stay hydrated throughout the trip - Carry enough water for the entire trip.
Wear the right clothing for the trip - Wear ventilated and comfortable riding gear (Riding jacket, pants, raincoat, gloves, boots, and helmet are a must-have).
Warm-up before you ride - This will ensure your body is ready and give you a dose of energy.
Stretch all your core muscles before riding - This is an essential routine before any adventure.
Avoid the "Monkey Butt" - Invest in a high-quality sheepskin seat cover that easily circulates air around your backside, ensuring a more comfortable ride over longer distances.
Pre-check every component of your bike - That will ensure it's running smoothly and give you peace of mind knowing you're ready for the long trip. Maintaining your bike shouldn't be hard - check these tips.
Ride in a Group
Riding alone can be adventurous and challenging because it increases the chances of losing focus along the way, especially during long motorcycle road trips. Consider riding in a small group of like-minded individuals to make the road trip more fun and more comfortable for you. Doing it in a group will help you stay alert since you'll get a heads up every now and then.
Another motorcycle road trip tip is to take turns leading the group. If you're riding with a pillion, you can also consider getting an intercom or communication system to talk and keep conversations going with other riders in the group. Conversions can help you stay mentally alert and avoid feeling sleepy.
Take Scheduled Breaks
If you're a frequent rider, you've probably had stifled yawns on long motorcycle road trips and rubbed your eyes in vain. You may have even tried to splash water on your face, hoping to regain some senses. But the truth is, long trips can have a toll on your mind and body. One of the best ways to combat fatigue is taking scheduled breaks along the way.
You can't enjoy your trip when feeling tired and distracted as it will put your safety at risk and make the experience unbearable. So, before you hit the road, map out your trip in advance, plan breaks at strategic points along the route, and make them as frequent as possible. Use the free time to stretch out your body, take a short nap, rehydrate, and reflect on the great moments.
If it's time for lunch during your motorcycle road trip, it's tempting to eat a heavy and delicious meal, but it's also the quickest way to lose your alertness on the road and even start feeling sleepy. Keep your meals along the way light and healthy. Plan all your meals in advance and bring healthy and tasty meals to keep you energized, satisfied, and alert on the road. A great saddlebag to keep all your adventure accessories and essentials is a must-have.
Music and Noise Works Wonders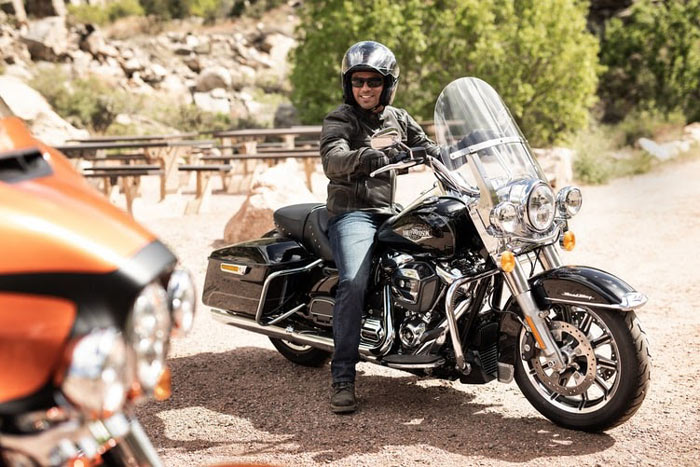 While listening to loud music when riding isn't advisable, a bit of cool music in your ears can help with alertness. The key is keeping the volume low enough to be able to hear what's happening around you. That is important for your safety during the motorcycle road trip. There are specialized Bluetooth motorcycle speakers designed for different V-twin cruiser bikes.
If you're wearing earplugs to keep out road noise and your exhaust sound, choose plugs that don't block all ambient noise. Go for specialized motorcycle earplugs that let in some noise through without necessarily damaging your ears. When you feel a bit tired when riding, you can also open your helmet face shield to let the wind shake you up a bit to regain alertness. It may not be a foolproof solution, but it does get your attention.
Ride Safely and Enjoy Your Ride
Keep these motorcycle road trip tips in mind to stay awake and alert in your next motorcycle road trip. Ready for your bike adventure? Get aftermarket motorcycle parts and accessories like windshields, fairings, and comfy seats to make your long trip more comfortable at West End Motorsports. We also stock quality riding gear for your safety needs.
Order now and get free shipping on orders over $99 and guaranteed fitment.