Posted by West End Motorsports on Feb 13, 2019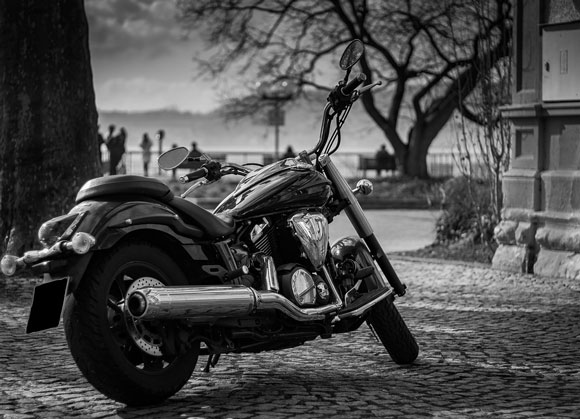 The Yamaha V-Star 1100 has been a favorite of motorcycle enthusiasts since its creation. Along with that popularity, came a booming market in aftermarket accessories for V-Star 1100 bikes. While Harley-Davidson may carry more clout among Americans, the international and domestic sales of Yamaha bikes have remained high, giving parts manufacturers all the incentive they need to include V-Star 1100 accessories in their line-up more than ever. It has never been easier to take a stock V-Star and turn it into something special: a one-of-a-kind custom ride that owns the road.
The Yamaha V-Star 1100
First released in Europe in 1999 as the Yamaha XVS 1100 Dragstar, it soon made the jump to America rebranded as the familiar V-Star. Using an updated version of the Virago V-twin engine paired with a new suspension and frame, it was an immediate hit. Thanks to its similar appearance to the Harley-Davidson 1200 Sportster, riders developed not only a love for the bike, but the possible accessories for the V-Star 1100 that could turn it into their perfect road machine.
Types Of Accessories
Accessories usually fall into one of three categories: Performance, Comfort, and Aesthetic.
Performance - Performance Accessories are aftermarket additions that help your ride perform better on the road or track. They might add power, increase efficiency, or provide better handling.
Comfort - Comfort accessories for the V-Star 1100 are designed to help make even the longest rides more bearable. They help the bike work better with your body, either alleviating stresses or mitigating the pain caused by certain positions.
Aesthetic - Aesthetic accessories may not help your bike's performance or give you an easier ride, but they look awesome. Some of these may add some additional functionality to your ride along with a certain eye-appeal, so they aren't solely for looks, but they fit better hear than the other two categories.
The Top Accessories For V-Star 1100 Motorcycles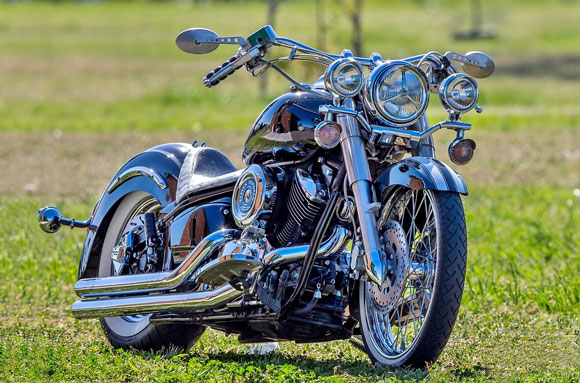 When Performance Matters
Custom Exhausts - When you want a low, mean rumble, stock exhausts just don't cut it. That's why so many V-Star riders start their customization with an aftermarket exhaust. Whether you choose a new set of slip-on mufflers or decide to go all the way to the motor with a full exhaust system with new head pipes, you can get the sound and look you've been missing. From a rumble to a roar, there's an exhaust for every taste.
Performance Tuner - A good fuel management system (also called a tuner or ECM) is one of the most important accessories for V-Star 1100 bikes on the market. A good auto tuner maps your system and optimizes the fuel mix to make the most out of your custom parts and accessories. Performance ECMs range from hands-off units that handle the entire process independently to programmable versions that let you tweak the settings yourself.
Air Kits - Your motorcycle's engine needs a lot of air to unleash the beast. Air kits provide the clean, cool air it needs for better combustion. When combined with a premium fuel management system, accessories for the V-Star 1100 like this help support your bike's other performance components.
Tires - Where the rubber meets the road, your high-performance tires transfer your motor's power to the pavement. Better tires use rubber compounds meant to provide durability and the maximum possible traction in a variety of road conditions. The right tire helps keep your bike under you during high-speed turns and rainstorms, making this performance upgrade one of the most important accessories for the V-Star 1100 you can make for a safer ride.
Comfort Is Key
Custom Seats - The longest rides can leave you with the most road pain afterward. A new seat can be just the answer. Whether you choose a saddle that is plain and straightforward or incorporates stitching and tooling to add eye appeal, custom seats are the perfect choice for either replacing your old, worn seat or upgrading.
Fairings - If you're planning a long road trip, a new fairing should top your list of accessories for the V-Star 1100. Fairings help guide the wind and debris over and around you and your bike. The result is less wind chill settling into your bones and a lower chance of damage from small road debris. Fairings can also add speakers for a radio, storage space, and other functionality that helps the time pass on long, cross-country rides.
Cruise Control - Get rid of those wrist cramps with a cruise control for your bike. One of the easiest accessories for V-Star 1100 bikes, a mechanical cruise control keeps your throttle cranked once engaged, maintaining your speed. No more sore rider's wrist!
Back Rests - Sometimes referred to as "sissy bars", back rests ease the strain on your back during long rides. Different sizes and styles are available, making it a customization that truly personalizes the way your bike looks. In addition, larger rests provide an extra securement point for additional bags or storage, and can give your ride different lines altogether. With back injuries being one of the common injuries suffered by long-term motorcycle riders, these accessories for V-Star 1100 motorcycles can be a great investment in both your comfort and health.
The Perfect Look
Chrome - If you want to catch eyes and turn heads, chrome is the answer. Luckily, there's a lot of it. Most aftermarket accessories for your ride are available in gleaming chrome, and there are plenty of access pieces out there that bolt, weld, or stick on if you're still jonesing for that shine. There's no wrong way to bling your bike as long as you go with what you like.
Bags - This is one of those accessories for the V-Star 1100 that isn't purely for looks, but the saddlebags you choose will be. Whether you choose soft or hard bags, these give you extra space to stow your gear, but the right bag can change the lines of your completed bike. Are you looking for some rugged leather saddlebags with chrome buckles and hand-stitched detailing or some hard cases that turn your bike into the ultimate modern touring machine? Either way, there's a bag to get the job done.
Custom Lights - Whether you're looking for a fluorescent glow or some bright LED accents, custom lighting is one of the fastest growing categories of accessories for V-Star 1100 rides. Thanks to energy-efficient technology, you can give your bike a glow or add a few extra bulbs as safety features. The choice is yours.
How Do You Want To Ride?
If you're the kind of rider who likes tinkering with his bike and creating a custom riding experience, there are plenty of accessories for the V-Star 1100 to fulfill that need. Whether you're crafting a daily driver, a beast to own the open road, both, or something in between, there are parts to help you craft the ride of your dreams, and we're proud to bring them to you. Get your aftermarket parts and accessories online from West End Motorsports today.