Posted by Wiley Moody on Jan 13, 2020
Safely transporting your motorcycle, whether the reason is your moving, getting it to the shop or picking one up at the dealership, the process can always be a little intimidating. Choosing what kind of transport is best for you usually is decided by what's available to you. Below are some viable options in case you need to give your bike a ride of it's own.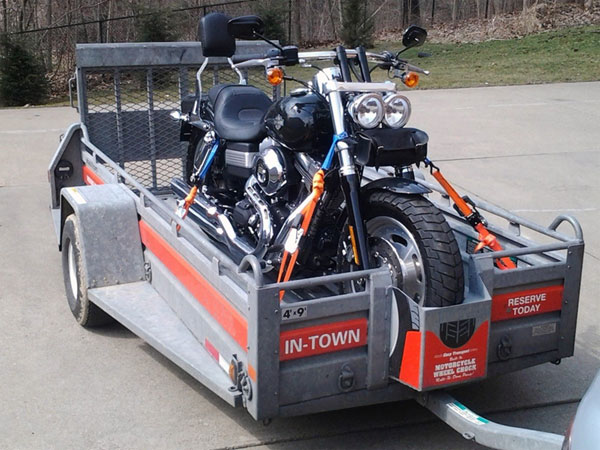 Trailering
Even if the trailer was meant for something else, any trailer that's large enough to fit a motorcycle will do the job at transporting one.
Trailers can easily attach to the back of a vehicle using a hitch. It does require some skill to haul a trailer so be sure to get some training before you decide to drive a vehicle with a trailer on the back. There are some wiring hook ups you'll have to attach for lights on the trailer from the tow vehicle.
Be sure to fasten the bike down to the trailer using at least four two straps. It's also a good idea to use some tire holders or stationary wheel chocks as well.
If you are using a vehicle to tow your motorcycle either with a tow dolly, trailer, or whatever, make sure to know your car's towing capacity beforehand!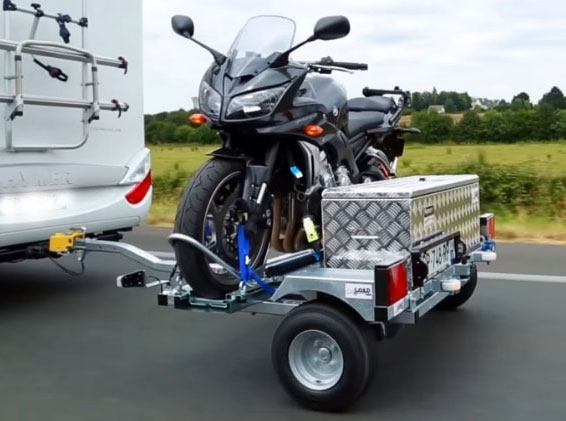 Pick Up Truck
If you don't own one or know anyone with one, rent one!
It's always easiest to load a motorcycle into a truck that has been backed up to a small hill and to use a ramp to get the motorcycle in. The hill will make it so you don't have to push the motorcycle up such a steep angle. If you don't have a hill, make sure the ramp is built so the bottom of the motorcycle does't bottom out at the apex of the ramp into the truck. Basically, never use anything other than a designated ramp to get it in there.
Use at least four tow straps and be sure they are tight all around. Tie down any slack that's left over on the straps so they're not flailing in the wind and cause damage to either your motorcycle or passing cars.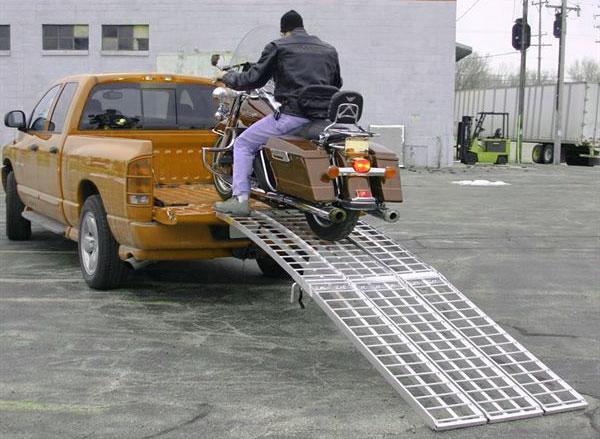 Moving Truck
Large moving rental truck companies will often give you a great price for renting, especially if you pick up and drop off at the same place. For example, U-Haul will rent out a 10 foot truck (which is more than enough space for a motorcycle…or three) for about $20 a day plus about 80 cents per mile you drive it.
Motorcycle Carrier
A motorcycle carrier connects to the hitch of your truck. It's a ramp that you place the motorcycle on top of so the motorcycle is towed sideways on the back of your truck. These are fairly easy to use and have proven to be an excellent way to transport a motorcycle.
The nice thing about using this method is that because it's sideways against the back of your car, and is much easier to haul compared to towing a trailer behind you.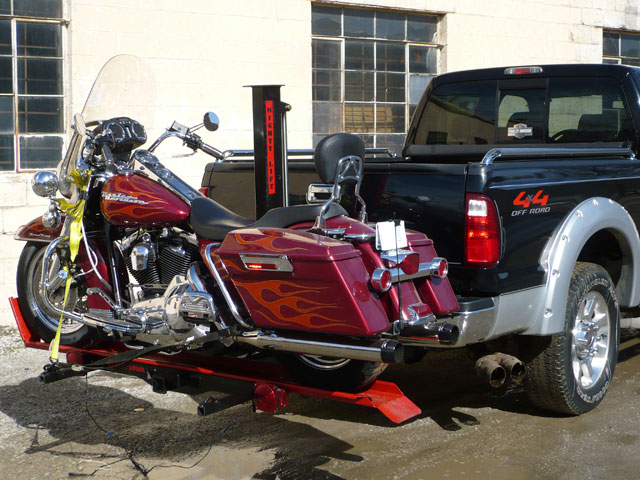 Tow Dolly
A tow dolly connects to the front of a motorcycle tire and secures it to the back of a car. This will leave the back tire on the road so your car doesn't have to carry the whole weight of the motorcycle. This is a quick and easy way of transporting your motorcycle can they are available at many rental dealers.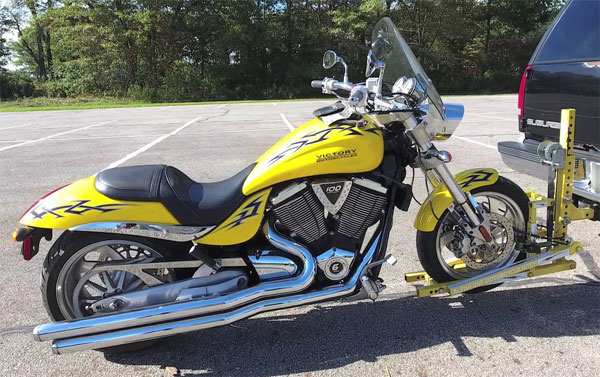 Protection
When transporting your motorcycle in the open air, there is always a chance the tow vehicle may kick up a rock or debris and damage your motorcycle. If you are going to cover the bike, make sure the cover is tight fitting and that the cover or any straps aren't chafing the finish on the motorcycle.