Posted by West End Motorsports on Mar 21, 2019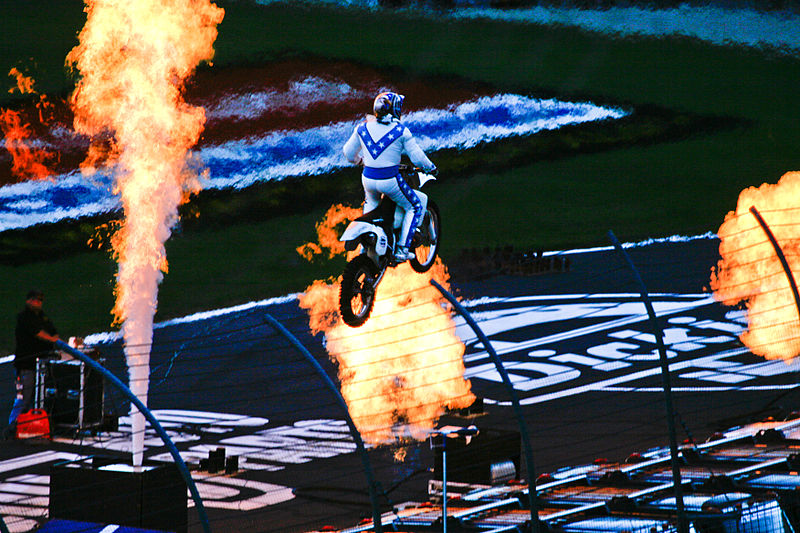 Motorcycle riders have long labored under the image of the death-defying rebel, and their fascination with the greatest motorcycle daredevils of all time has done little to dissuade that perception. Every rider, at some point, has envisioned landing the longest Harley jump or performing a deadly feat on their bike worthy of legend. In the end, most motorcycle riders won't do more than dream about it, but there are some men and women who took the free-riding spirit to heart and became mythic daredevils.
The Longest Harley Jump In History
One record that sits close to our heart is the record long jump on a Harley Davidson motorcycle. Most of these records are set on sportbikes. Made with powerful engines and ultra-light components, these don't do well for daily riders but are perfect for doling out lots of horses without much-added weight. That isn't what Harley's about.
Seth Enslow had already made a name for himself as a long-distance motorbike jumper when he turned his attention to making the longest Harley jump in history. In the end, his jump of 183.7 feet smashed the previous world record by almost 30 feet, burning his name in the record books alongside his modified Harley XR1200. In reality, he broke the record twice that day: initially in front of a small crowd with a jump of around only 175 feet and then with a second jump for the press that gave him his final length record of the day.
Great Motorcycle Daredevils
These are some of the awesome daredevils that have ridden their cycles to greatness. No list this short could be complete, but if you're interested in the history of motorcycle stunt riders, it gets you a start beyond Seth Enslow and his longest Harley jump record. In no particular order after the first one:
Evel Knievel: While no daredevil list may ever be complete, if Evel isn't on it, it's not even a list. Synonymous with death-defying motorcycle stunts, Evel transcended motorcycle culture and became a mainstream cultural icon. Reported to have broken over 400 bones during a career that included over 75 recorded jumps, as much as he is a testament to the popularity of a talented daredevil, he is a warning to leave such feats to the professionals.

Lilian La France: Women stunt riders don't often get the same credit as their male counterparts, and especially in the early days, their skills were more on display that the power of a bike. Lilian La France may not have been the first female rider of the wall of death, but for the '20s and '30s, she was easily the best known. Known as the Girl Who Flirts WIth Death, this aficionado of the wall of death unabashedly donned the skull and crossbones symbols of her day's daredevils, and no one questioned her right to them.

Ronnie Renner: Sure, Seth Enslow went far with the world's longest Harley jump, but he didn't get this kind of height. Ronnie holds back to back records in jumping a motorbike for height from a half pipe. HIs most recent accomplishment came in a stunning 63 feet, or a little taller than a semi-trailer is long.

Debbie Lawler: Called both the Flying Angel and the Female Evel Knievel, Debbie had a successful career in motorcycle jumping in the '60s and early '70s. Debbie was known for her sweet demeanor and her riding skills, even when swapping records with a dismissive Knievel. Her career as a jumper ended when a gust of wind pushed her cycle long, causing it to miss the landing ramp and eventually leaving Debbie next to the cement wall she had slammed into. Debbie survived but never jumped again.

Robbie Maddison: There's a lot you can say about Robbie. While he never attempted to top the longest Harley jump, odds are he'd make a go of it if he did. Robbie's jumps have included landing on top of casinos, then riding down off of them and setting a record for the longest ride on water. If you can catch a wave on a motorbike, you belong in this discussion.

Cookie Crum: Another early pioneer of the wall of death, Cookie brought model good looks to the stunt riding of her time. One of the few women to be inducted into the Sturgis Motorcycle Hall of Fame, she didn't get there for her blond hair and smile, but for her balance and skill riding her bike parallel to the ground. This cookie was as fearless as they come.

Travis Pastrana: Some people don't believe that X-Games athletes belong in the conversation with daredevils, but if your bike leaves the ground for as long as this and you live, it should count. When Travis hit a double backflip in the 2006 X-Games, you could feel that something special had just happened. History has done nothing to dimish that feat.
What Will Fall Next?
Bikes are continuously improving. While heavily modified rides may be optimized for performance, even stock bikes are getting faster and more powerful. The stigma of riding motorcycles is on the decline as more and more people turn to them as an economic mode of travel. Even stunt riding is experiencing a heyday as more entertainment outlets are willing to fund and promote extreme sports. There may be a new titleholder for longest Harley jump, most extreme trick, or some other category of daring-do not even imagined yet.
Get The Performance You Need
Whether you're building a ride to take you to incredible heights or just to the office, we have the premium aftermarket parts to help your bike get the job done. Call our customer service team at (570) 992 1113 if you need help finding the right components for your bike. Order your parts and accessories from West End Motorsports today.