Getting the best motorcycle tools for your V-twin cruiser is a great investment you can make for ensuring easy maintenance of your motorcycle. A tool purchase represents a desire to invest in what you love and the level of care you want to have on your ride. By buying tool kits, you'll save a lot of money that a repair and maintenance shop would charge you.
Whether you want on-the-road tools for quick and easy adjustments or a full specialty tool kit to keep your motorcycle in the best condition, there are must-have tools that you need in your garage. Here are our 7 best tools for every motorcycle owner.
Screwdrivers
Screwdrivers are some of the best motorcycle tools you'll need for even the simplest jobs on your bike. Get yourself a full set of screwdrivers in different sizes or split up between flat-head and Philips screwdrivers, or get one with interchangeable tips. Buying one with a few hex-head tips means that you get a super-portable tool that can serve lots of purposes on your bike.
Wrench Set
This is a must-have item for just about any work on your bike. A wrench set will help you loosen and re-tighten most of your motorcycle fasteners. You can either buy a bigger and sturdier set for your garage, or a lighter, more minimalistic set that you can carry with you when on the road. Determine whether your bike uses standard or metric fasteners and shop around.
Ratchet and Socket Set
A ratchet and socket set also makes it in the list of the best motorcycle tools. These tools make working on your bike easy, including serious jobs like removing your wheels and loosening big fasteners. Go for a quality, cost-effective set with one handle and a dozen or so sockets. Or, you can buy a full mechanics set that comes with hundreds of sockets for every possible size or shape.
Tire Pressure Gauge
The condition of your tires is a critical part of riding safety. Checking for proper pressure is vital, so getting a quality tire pressure gauge should be a priority. Most riders make the mistake of under inflating or over inflating their tires. You can prevent this by monitoring your tire pressure with one of the best motorcycle tools you can have. Check out our tire section if you're in need of replacement valve stems or caps.
Hex Keys (Allen Keys)
Most motorcycles, especially Japanese models, use hex head fasteners in almost every part of the bike. A hex key set will help you remove them. You can buy a simple set of Allen keys or go for a bigger full set that provides enough torque to remove large-size fasteners. Take a look at our tool section to find hex keys suited for your ride.
Torque Wrench
This may seem like an advanced tool, but if you care about how tight you fasten your fasteners, then you need a torque wrench. This simple tool removes the guesswork that goes with this work; too loose, and your fasteners could rattle off when riding, but too tight, they could strip. Avoid these situations by getting a torque wrench. If you're on a budget, get a digital torque wrench adapter that is compact enough to snap onto a normal rachet when you need it.
Other Basic Hands Tools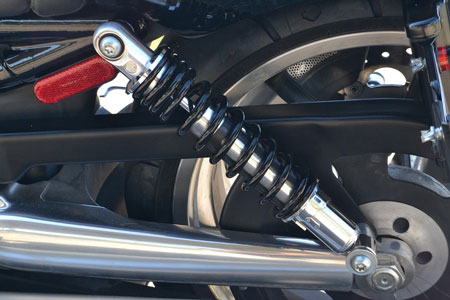 When buying the best motorcycle tools, you can't forget to grab pliers, a hammer, and an impact driver. Pliers will help you get a good grip on anything when working on your bike. Get a couple of pairs of needle noses, slip-joint pliers, and locking pliers if you need them. A hammer is great at driving that impact wrench, tapping on stubborn fasteners, and shifting other things into place.
Sometimes, fasteners won't budge with your hand tools despite your best efforts. If you're having trouble with that, an impact driver can help you loosen fasteners without applying too much twisting force. It's the perfect tool for making work easier.
Get to Work and Customize Your Bike
Having the best motorcycle tools is important if you want to customize the style and comfort of your bike. Whether you want to install a more comfortable seat, a new aftermarket windshield, add more storage, or install an aftermarket exhaust kit to improve the sound, you'll need the right tools for the job. West End Motorsports is here to help you customize your motorcycle.