When cruising down the highway and enjoying the freedom of the open road, there's no better way to enjoy your journey than by wearing your favorite motorcycle gear. Whether you own a Honda cruiser bike, such as a Honda Rebel or Shadow, or one of the iconic Gold Wind touring models, you'll want to ensure your own safety and comfort when riding.
So, what is the best Honda motorcycle gear for your bike? While there's a collection of Honda riding gear to choose from, we're going to look at the gear that makes a big difference.
Motorcycle Crash Helmet
Motorcycle crash helmets have come a long way in terms of in-built technology and safety features. A helmet is one piece of must-have protective gear when riding your Honda motorcycle. A good helmet should feature tremendous strength while still retaining a lightweight build. Liners in most modern helmets now boast anti-fogging quick-release face shields and removable moisture-wicking fabrics.
Inbuilt tech now includes features like fully installed communication systems and Bluetooth compatibility. Honda motorcycle gear is well-known for its quality. Honda offers a variety of full face, open face, half, dirtbike, and modular helmets to choose from, including shields/visors, and helmet liners.
Riding Jackets
Leather jackets may still be the most popular choice of apparel for custom and cruiser bike riders, but advancements in fiber technology mean that there are great textile motorcycle jackets in the market offering many safety benefits. From added strength, abrasion resistance, toughness, weather protection, and improved comfort in all conditions, Honda motorcycle jackets offer the level of protection you need. Choose from riding, leather, and textile jackets.
Riding Pants
Just like other key Honda motorcycle gear, pants have become an essential safety gear for riders. With improved protective qualities, weatherproofing, and weight, we've seen pants with materials that offer better flexibility with abrasion-resistant fibers woven into the pants to offer top-level protection. Body armor that was originally developed for the military is now being used to offer knee and hip protection. Honda offers protective every-day riding pants, vented pants, fall and winter pants, denim jeans, textile pants, and 3-season pants to suit your specific needs.
Riding Gloves
High quality riding gloves are a must-have to ensure hand safety in case of an accident or fall. Considering that your hands control much of everything on the handlebars, cold or wet hands could result in numbness, lower sensitivity, and slower response. It's important to choose the right style and length of riding glove depending on the type of riding you do and the weather conditions. Your Honda motorcycle gear choices will mostly be dictated by these two factors.
That means choosing an all-weather glove that goes over the sleeve if you ride a touring or cruiser, and gloves with extra protection if you ride high-speed street or race bikes. Extra protection for your palms and knuckles is vital. A proper fit should also be considered, as well as smart-touch features. Honda brings you a variety of riding gloves, including rain, leather, vented, fall/winter, spring/summer, racing, and other types of gloves.
Riding Boots
You should get yourself a good pair of motorcycle riding boots. Again, consider your riding style to determine what type and style of boots you'll buy. While military-style boots will offer basic protection, invest in motorcycle-specific safety boots with non-slip features, reinforced insteps, ankle protection, replaceable soles, Gore-Tex weather protection, and easy-wear comfort. With so many different options in Honda motorcycle gear, it's not hard to find efficient riding boots.
Motorcycle Riding Glasses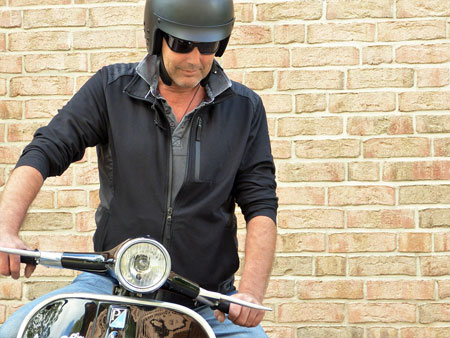 Protecting your eyes while riding your bike should be a top priority. You don't want to get hit by a small bug when riding at high speed on the interstate. Motorcycle riding glasses will help protect your eyes from the sun and offer protection in all conditions, even on impact. Make sure they have the right fit around the nose and eyes, with UV protection, scratch-resistant lenses, and recognized safety rating. Extra lenses for different riding conditions are a plus.
Upgrade Your Riding Gear Today
Whether you want a new helmet, tee shirts, gloves, rain gear, heated apparel, or other types of gear, finding the best modern motorcycle riding gear has never been easier and affordable. Find the Honda motorcycle gear you need for your V-twin cruiser bike at West End Motorsports. Enjoy your rides with more safety than ever before.