Classic motorcycles are as fun to ride as they're stylish. Ride a vintage bike down the street and heads will turn. There's no shortage of good old-fashioned bikes to admire. Despite global motorcycle sales slowing down, American classics are still a huge attraction to motorcycle lovers. There are plenty of stylish, fast, and timeless classic bikes on the road and in collector's showrooms, but few are as iconic as these classic American motorcycles.
Let's have a look at some of the finest collectible American motorcycles ever made:
Harley-Davidson Sportster (1957-2004)
The Harley-Davidson Sportster model has been in production since 1977 with ever-increasing displacements from 883cc to 1200cc. It was designed to be lighter, more appealing, and agile than the original Harley big machines. The bike was easily customizable with lots of accessories to choose from with the different models available. Acceleration was up to par with the quickest brit bikes. This classic American bike is fully accepted by today's hardcore Harley lovers.
Indian Chief
First produced in 1947, the Indian Chief has remained one of the coolest classic American motorcycles ever made. Featuring a 1200cc engine, this vintage bike could hit 85 miles an hour in third gear. It featured a left foot crutch and the iconic hand-operated shifter that was placed near the gas tank. Unlike classic Harleys, the Indian Chief came with rear suspension that made riding smoother. The 1950 Indian Chief Black Hawk is particularly a collector's gem.
Harley-Davidson WLA
If you're a World War II fanatic or a classic motorcycle enthusiast, the Harley-Davidson WLA is the ultimate classic. Built for the U.S. Army during WWII, this bike was entirely different from the civilian model. It was designed to withstand the muddy battlefields across Europe and included windshields, leg guards, and one-of-a-kind blackout lights for traveling at night. Today, the Army green-colored WLA is one of the coolest heavy-duty classic American motorcycles.
Harley-Davidson XR1000 (1982-1983)
The Harley-Davidson XR1000 was built in 1982 for motorcycle lovers who wanted something raucous and adventurous. It offered excellent handling, sufficient power, and played a key role in ushering in the classic American style. Consumers back then were demanding a street-legal version of the Harley XR-750 race bike. While a lot happened back then, the result was the XR1000 with a 998cc air-cooled V-twin engine, a chain drive, and four-speed transmission. This classic bike was fast; 115mph and lightweight. You can still spot it on the streets today.
Indian Sport Scout (1934-1942)
Introduced back in 1934, the Indian Sport Scout featured a 750cc with stylish flared fenders and a brand-name script logo that had war-bonnet graphics on the sides of the bike's fuel tank. Unlike the first Scout model of 1920 that had a 600cc engine and a 42-degree side-valve V-twin engine with two cams, this 7500cc classic American motorcycle came with improved alloy cylinder heads and carburation that boosted performance.
Harley-Davidson FLH (1958)
This vintage bike entered production in 1941 and continues to be produced to date. In 1958, Harley introduced its first-ever Duo-Glide which came with serious performance improvements. The FLH came with a rear shock absorber and hydraulic front forks, which meant that riders would ride over longer distances without discomfort. The bike boasted of 1200cc big twins that produced 53-55 horsepower. The engine ran cooler, and the bike became a touring hit.
Harley-Davidson XR750 (1975)
The Harley-Davidson XR750 is not only one of the most iconic classic American motorcycles but also one of the best bikes ever produced. While the brand is well known for its comfy cruiser bikes and gleaming chrome pipes, the brand also has produced other types of bikes, and this track motorcycle is one of them. The bike is still produced today but was particularly famous from 1970-1976 when it was used by the fanatic "Evil Kenevil" to perform some of the most memorable feats in motorcycle history...like crossing canyon gaps!
Harley-Davidson EL (1936)
This 1936 EL boasts of establishing the design template for generations of heavyweight bikes that followed and featured the famous 61 cubic inch Knucklehead V-twin engine. This classic American motorcycle boasted of the world's first overhead-valve engine that was powerful and stylish, making it a show stopper. The bike also introduced Harley's popular loping exhaust cadence that sticks to date. This classic is a perfect example of an iconic motorcycle design.
Harley-Davidson Low Rider (1977)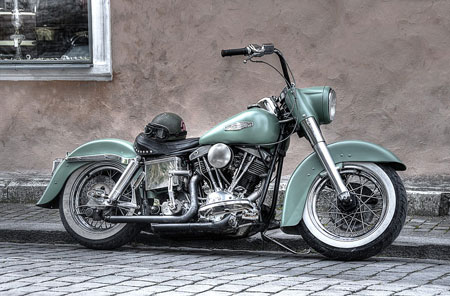 The Low Rider was the first successful factory custom bike from Harley-Davidson. It was a decked-out and mean-looking machine that came in a wrinkle-black trim and a scooped-out riding seat that made the name famous. The bike was designed to combine the raw appeal of drag racing with the then-famous custom chopper design. The cast-aluminum wheels, raked fork, and drag-style handlebar define it in many ways. The styling of this classic American motorcycle went on to inspire the first cruiser bikes from Japan.
Buell RS1200
In 1989., Erick Buell, a former Harley-Davidson engineer and road-racer, produced the Buell RS1200 street-legal road bike that came with a sleek integrated half-fairing and a stock Harley 1200 Sportster 1200cc air-cooled engine. This American classic boasted a compact, neat, extremely clever, lightweight chassis to hold the V-twin engine. The design ensures a supremely aerodynamic shape that provided a top speed of 120mph.
Customize Your Classic Motorcycle
Vintage bikes have given us something to be proud of: from artful engineering and glimmering chrome to lasting glory over the years, there is so much about them that draws attention. Whether you own a vintage bike or want to buy one, there are many things you can do to customize looks, riding style, and comfort. For classic American motorcycles like Harley-Davidson and Indian, there are a variety of options available to give your bike a personal touch.
Explore customizable parts and accessories like seats, exhaust kits, and fairings and windshields that you can install yourself for your V-twin cruiser at West End Motorsports. We offer guaranteed fitment with every purchase and free shipping on all orders over $99.