Posted by West End Motorsports on Feb 25, 2019
Get your bike and get out on the open road.
Touring on a motorcycle is pure magic. Unlike traditional vehicles like planes, trains, and automobiles, motorcycles give you that special connection to the Earth that makes journeys memorable. Of course, using the best touring motorcycle naturally adds to the experience, making your trip more comfortable, safe, and enjoyable in general.
Motorcycles Are Personal
In the world of motorcycles, everyone has their own unique tastes and preferences. With that in mind, it's always wise to take multiple test rides so you can see which style and manufacturer fit your needs. These are some of the best touring motorcycles on the market today.
Use this guide to get you started, but don't feel limited to this information only. Talk to other bikers. Read online reviews. Most importantly, get on a bike and ride. At the end of the day, only you can decide on the best touring motorcycle for you.
1. Ducati Multistrada
The Ducati Multistrada is one of the most versatile options available, and that's why it's lovingly referred to as the Swiss Army knife of motorcycles. If you're looking for a bike that you can use for exploring the open road, commuting to work, and cruising locally, it's a fantastic choice. This bike is also highly customizable so you can really make it your own.
The Multistrada also comes loaded with some seriously awesome features. It comes with a 1198cc 90-degree V-Twin engine that can hit 160 hp and a top speed of 145 mph. The best touring motorcycle has to be comfortable, and this bike includes semi-active suspension, integrated cruise control, a self-adjusting windshield, standard traction control, an excellent ABS system, and so much more.
2. Honda Gold Wing Tour
You just can't mess with a classic. Since 1974, Honda's Gold Wing series of touring bikes has been recognized as one of the quintessential long-haul rides. While you really can't go wrong with any generation, the 2018 Gold Wing Tour is an especially attractive option for anyone gearing up to hit the open road.
The Gold Wing Tour takes what bikers love about the classic and updates it with a sportier aesthetic and high-tech features. If you're seeking the single best touring motorcycle, this could very well be it.
The Gold Wing Tour is 90 pounds lighter than previous iterations, and it has electronically adjustable double wishbone suspension reminiscent of BMW's Duolever — that'll help you out on those long, bumpy roads. It also comes loaded with traction control, throttle by wire, LED lighting, and four ride modes.
Pro tip: If the Gold Wing's price tag doesn't fit your budget, the Honda offers a similar style for around $9,000 less.
3. Indian Roadmaster
The Indian Roadmaster just feels right. In addition to some seriously impressive features, this could be the single best touring motorcycle when it comes to that intangible magic that's hard to find. If you've ridden a Harley, you know that otherworldly feeling, and the Roadmaster delivers it in spades.
Decked out in gorgeous chrome and leather, the Roadmaster pays loving tribute to the past while keeping its gaze relentlessly forward. The onboard Ride Command infotainment system includes a wide range of extremely handy features including an integrated GPS system.
While the sound of the exhaust is sure to be music to your ears, the more-than-capable stereo lets you crank your favorite road trip tunes. The massive V-twin engine gives you that roar and rumble that turns even a quick ride to the store into a rugged experience.
4. Harley Davidson Electra Glide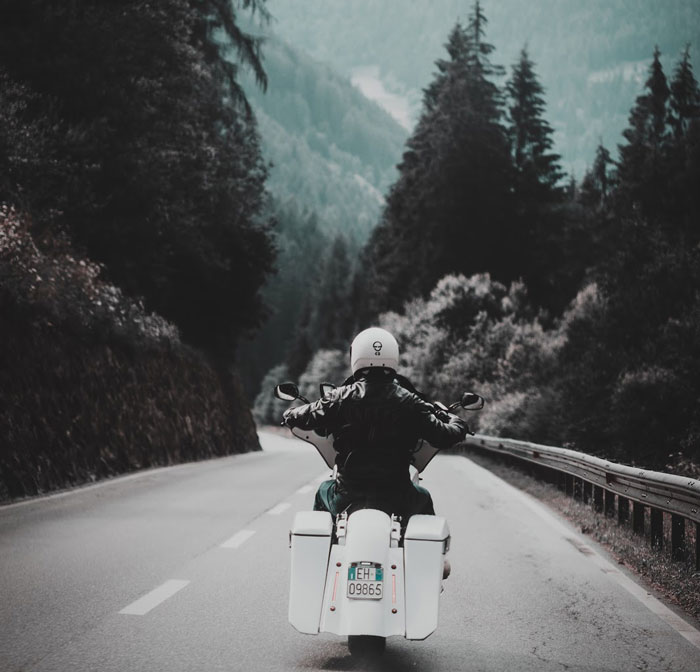 Get on the road and go!
For some bikers, there are two types of motorcycles: Harleys and not-Harleys. If the best touring motorcycle for you is inevitably going to be a Harley Davidson, the Electra Glide is a great place to start your hunt. This bike is made from the ground up with long-haul riding in mind, and it delivers the classic comfort and look that made the iconic brand a legend.
The Electra Glide comes with a Milwaukee-Eight V-twin that gives you the smooth, powerful rumble that's distinctly Harley. The high-performance suspension is extremely responsive, and the rear shocks are easy to adjust on the fly so you can cater your trip to specific roads.
The electra Glide also might be the best touring motorcycle if you need room for two. The Two-Up Electra Glide seat has a comfy deep bucket with back support and armrests so your passenger can relax and take in the scenery in comfort. To top off the package, the onboard touch-screen infotainment system puts music, navigation, and phone at your fingertips, even if they're gloved.
5. Yamaha FJR1300
Want something a little sportier that doesn't compromise long-haul features? Yamaha's FJR1300 gives you a fast and comfortable bike that feels at home whether you're riding to the office, around the track, or across the country. If you love Yamaha bikes and you want something for long-distance travel, the FJR1300 may be the best touring motorcycle for you.
This bike seamlessly blends sporty and classic styles, and it does it well. In addition to the gorgeous look and comfortable design, this bike comes loaded with a 1298cc liquid-cooled in-line four engine and a six-speed transmission. Heated seats are that luxury that you never realize you needed until you're on a long ride on a cold day. The bike also has quick-release luggage mounts so you can pack for your journey.
Travel Smart
Don't hit the road until you know your bike is ready. After all, even the absolute best touring motorcycle can break down. Beyond just getting your ride tuned up, you may want to upgrade it with some parts and accessories that you can install yourself with ease.
At West End Motorsports, we carry universal parts and accessories and brand-specific gear so you can customize your ride just how you like it. We also offer guaranteed fitment so you can shop with absolute confidence. Want to know more? Contact us now. Shop the best parts so you can make your tour one to remember.