Posted by Wiley Moody on Sep 28, 2020
There's nothing quite like experiencing the open road in an adventurous and engaging way, like on a touring cruiser motorcycle. The multi-faceted beauty and functionality of a touring cruiser bike is that it keeps you comfortable for the long road ahead, adds a sense of fun to the winding roads you'll encounter, and offers plenty of places to stash your specialized gear.
If you're planning to buy an adventure touring bike, look at some of the best adventure touring motorcycles available for the job. Here are some of the best options you have and adventure touring motorcycle accessories you should get.
Honda Gold Wing
The Honda Gold Wing is the gold standard in touring motorcycles, providing riders with impressive performance, ultimate comfort, and wind protection. Its exceptional engineering makes it much lighter than it should. Now available with automatic transmission, the Gold Wing is a convenient choice for adventure touring with lots of storage space for your gear. It features a super-comfy pillion seat with a backrest and a powerful 1833 cc 6-cylinder engine.
Harley-Davidson Electra Glide/Touring Line
The Harley-Davidson Electra Glide is the perfect technologically updated touring cruiser bike for classic road lovers. It's no doubt one of the best adventure touring motorcycles. It features an infotainment system, a touch screen, easy-to-use commands, LED head and fog lamps, ABS braking system, and the unmistakable Milwaukee Eight engine with its stunning roar, and an adjustable, improved suspension. Riding on an Electra Glide is as smooth as it gets.
Indian Roadmaster
The Indian Roadmaster touring cruiser is a classic masterpiece of a machine. With its imposing 1811 cc V-twin engine, it has no trouble moving you and your gear when fully loaded. With premium heated seats and pillion, you get to enjoy maximum comfort all the way. It features keyless ignition, cruise control, a cumulative 140-liter cargo space, an adjustable windshield, and interactive infotainment with navigation features.
Yamaha Venture Transcontinental
The Yamaha Venture Transcontinental is one of the best adventure touring motorcycles today. Specifically built to address the touring and cruising culture for the North American market, this high-performance machine is great for long-distance adventures. It features a large air-cooled 1854 cc, 8-valve, V-twin engine, a 6-speed transmission, heated seats and grip warmers, a 140-liter luggage capacity, an advanced park assist system, and a touch infotainment system.
BMW K1600GTL
If you're looking for an adventure touring bike that seems to have it all, the BMW K1600GTL is ergonomically designed for two riders and features heated seats for long cold rides. It comes with a 1600 cc 6-cylinder in-line engine, keyless ignition, an adjustable electric windshield, beautiful Xenon headlamps, ABS brakes, and automatic electronic suspensions for optimized rides.
Kawasaki Vulcan 1700 Voyager ABS
The Kawasaki Vulcan 1700 Voyager ABS is the brand's flagship touring motorcycle. It's one of the best adventure touring motorcycles that delivers a smooth, reassuring ride. Featuring a massive 1700 cc V-twin engine and show-stopping style and performance, it offers enough power to command the open road with confidence. It comes with frame-mounted fairings, integrated luggage compartments, electronic cruise control, and other premium features.
Adventure Touring Motorcycle Accessories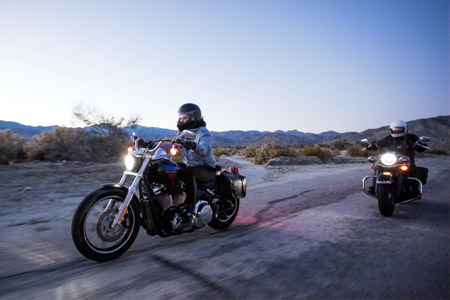 Heading out for adventure touring on your V-twin cruiser is exciting. It means disconnecting from the rest of the world and enjoying the long rides in style and comfort. To ensure total confidence in your adventures, you need the right gear and accessories. Here's a short checklist of accessories for the best adventure touring motorcycles:
First, do some pre-checks to ensure your bike is in good condition and has the necessary paperwork
Full riding gear, including a helmet, riding jacket pants, gloves, boots, and rain jacket
An action camera to record your adventures and exciting moments
Saddlebags to expand your carrying space on your touring bike
A windscreen to ensure a more comfortable and smoother ride
Bluetooth communication system if you're two or more riders and require phone holders
A GPS unit for easier navigation
Bluetooth motorcycle speakers to take your music with you
Earplugs, hydration pouch, specialized rain gear, satellite messenger for emergency and more
Shop Touring Cruiser Bike Accessories Online
No matter what type of V-twin cruiser bike you ride, you can find the parts and accessories you need at West End Motorsports. From riding accessories to luggage and maintenance kits, we have everything you need to customize your bike's style, comfort, and performance. Shop by bike, category, or brand and enjoy guaranteed fitment and free shipping on orders over $99.