Posted by Wiley Moody on Jun 18, 2019
There are a lot of things you want to bring on your next motorcycle trip. It doesn't matter whether you ride a Harley-Davidson Touring Model or a Honda Rebel, there are a few items that should be on the top of your packing list. Here at West End Motorsports, we believe it's better to be safe than sorry and be ready for whatever the road can throw at you. Check out our list below and feel free to add to it to customize for your own adventure.
1. Emergency toolkit: You should have the types of wrenches and sockets that are compatible with your particular bike. Don't carry tools you can't or won't use. Something to consider is a Mulitool, the Swiss Army knife of tools that saves space and weight. With the many options available in a Mulitool, you can perform a wide range of repairs as well as having a knife to cut your sandwich at lunch.
2.Spare Key: There is nothing worse than losing your keys! And breaking a key is always a hazard. Always keep a spare key with you, just in case.
3. Flashlight and/or Headlamp: Trying to repair a problem in low light or just looking for something in the dark, a simple light makes life much easier in those situations.
4. Emergency Beacon: You need to been seen if you're stuck on the side of the road. A flashing hazard light will help warn passing vehicles of your presence so they can steer clear.
5. Cable ties: These handy little strands of plastic are capable of holding together many types of bike parts until a more thorough repair can be obtained. Bring a handful of different lengths.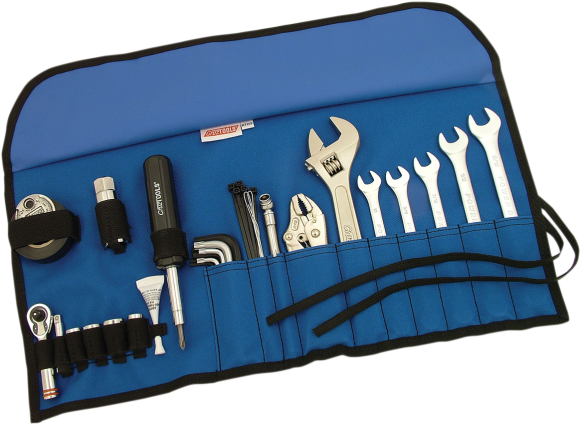 6. Duct tape strips: It really can fix almost anything, at least for short periods of time. To save space, cut duct tape strips to save space in your pack.
7. Fix-A-Flat (or tire repair kit): A cheap can of Fix-A-Flat and small air pump can save you a lot of time and cursing when you run over a nail out on the road.
8. A Real Map: A map never needs a cell tower signal or AC power. Aside from using a map in an emergency, it's a great way to plan the trip ahead or pick out alternative routes. Make sure to get a map that's waterproof and tear resistant .
9. GPS Unit: A satellite navigation system is the best way to know your way. If you have a cell phone mount on your motorcycle you can save some money and use the nav in your cell phone as well.
10. Personal Items: Extra bandannas (tons of uses), spare gloves (Like bandannas, your gloves can get pretty wet and dank after a day of riding. A second pair can make your journey a lot more comfortable.) earplugs, and a first aid kit. And don't forget the sunscreen!
Drop us a line if you think we forgot something at info@westendmotorsports.com.