Posted by Wiley Moody on Jan 5, 2021
For many V-twin cruiser bike owners, nothing beats the thrill of riding a customized motorcycle with impressive performance. While factory stock bikes come ready to hit the open road, there's always that urge to squeeze out a bit more from your favorite bike. If you're looking for optimal performance with custom upgrades, get started with some of the best motorcycle accessories on the market today.
Maybe you want to get a bit more torque or want a little more rumble when you hit the throttle on the highway. If you're wondering how to customize your motorcycle, there are a few simple and proven upgrades to add more power, improve your riding experience, and make your V-twin cruiser bike your own. Here are some add-ons to get you started:
Performance Exhaust Upgrade
An aftermarket slip-on exhaust is a must-have performance accessory for any V-twin cruiser bike owner who's looking to gain some extra power out of their engine. This is one of the best motorcycle accessories to start with when you want to improve your bike's performance, sound, and look. Enjoy that deep bass rumble that you crave and an appealing look with attractive blacked-out or chromed finishes and customized end caps.
A performance exhaust upgrade is a practical and functional upgrade that adds the perfect finishing touch to your bike. There are numerous aftermarket exhaust systems you can choose from to get that instant top-end horsepower improvement and aggressive sound you want.
Air Cleaner Upgrade
Your motorcycle needs proper cooling to ensure optimal performance. Get an aftermarket air cleaner kit for your V-twin cruiser bike and combine it with other motorcycle accessories like an exhaust upgrade to enjoy the best performance. The more you get cleaner air into your bike's engine, the better your engine will perform.
Get a performance-oriented air filter for your bike to maximize your bike's power and performance. An air filter upgrade should help you achieve the right fuel-to-air ratios that you need to ensure optimal motorcycle engine functionality while providing reliable protection against road debris, dust, and dirt. That will ensure your engine lasts for years.
Suspension Upgrades
Another great tip on how to customize your motorcycle for performance gains is by upgrading your suspension. Your bike's suspension ensures your tires stay in contact with the road. While the stock suspension in modern bikes is set up correctly, it can be improved to provide even better performance. Adjustable suspension is one of the best motorcycle accessories you can add to your bike.
It will significantly improve the way your motorcycle handles corners and responds to rider inputs. If you already have adjustable suspension, visit a pro shop to help you tune your suspension to your specifications. With better handling characteristics, you get to enjoy better and more predictive traction across different riding conditions.
Power Commander
A power commander is a performance accessory that sits in-line between the ECU of your motorcycle and the fuel injectors. It allows you to remap the motorcycle's air and fuel mixture to ensure improved overall engine performance. Some advanced units even allow you to change your bike's timing. This is one of the best motorcycle accessories to get after adding a new exhaust system or slip-on exhaust, as it allows you to optimize the fueling for your new set up.
Even without an upgraded exhaust system, a power commander is still a great option when you want to get some extra power from your bike. To ensure the best results, take your bike to a dyno and get it professionally remapped. That will ensure you get the biggest gains. Expect to gain around 2-5 horsepower and smoother power delivery with the right power commander kit.
Lighter Wheels and Tires
Most V-twin cruiser bike owners consider wheels as an afterthought when upgrading their bike, but wheels, tires, and suspension have a significant impact on your bike's performance in the long run. If you love the open road and riding fast, a set of new lightweight wheels will help reduce the extra weight you carry around every time you hit the open road. Just make sure to buy high-quality wheels that will last.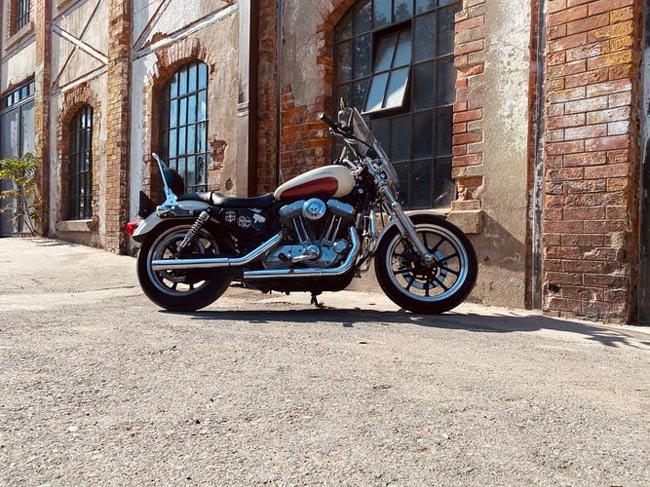 Better motorcycle tires make a difference in your bike's performance by improving handling, response to rider input, and efficiency. Check your tires' condition frequently to ensure they have enough tread with no visible damage or bumps.
Customize Your V-twin Cruiser Bike
One of the best things about owning a V-twin cruiser bike is that you can make it your own. With the right aftermarket motorcycle parts and the best motorcycle accessories available to you, you can customize your bike's performance, riding, style, and sound. Find what you need to personalize your bike, from aftermarket exhaust systems, fairings, windshields, and seats at West End Motorsports.
Order now and enjoy guaranteed fitment and free shipping on orders over $99.