Color Matched 4.5 inch Stretched/Extended Saddlebags for Harley Davidson Touring Models '14-Up - Pair
Our color-matched extended saddlebags come in the same color as your bike. From Vivid Black to Crushed Ice Pearl, and even Amber Whiskey, these color-matched saddlebags are made with official Harley paint colors. At West End Motorsports we sell color-matched aftermarket hard saddlebags for your Harley Davidson. The quality of these saddlebags is exceptional at a value that can't be matched.
Harley Davidson Touring Saddlebags
Not only do the bags get you the custom bagger look on a budget, our rigid 4.5 inch Harley Davidson touring saddlebags offer plenty of room for storing essentials for long-distance rides. Carry food and beverages, clothes, tools for tuning up your bike, and more. These Harley Davidson extended saddlebags look great on your bike. They're also highly functional, offering more room than many factory-installed saddlebags.
Simple to Order and Assemble
Our color-matched extended saddlebags are easy to order and assemble. To order, simply choose your factory color, select your bag cutout type (e.g., dual cut for 2-2 exhaust, single cut for longer 2-1, and uncut for short or side dump exhausts), and reuse your factory lids and hardware. You can also order a set of upgraded lids with 6x9 speaker cut outs from West End Motorsports. Include metal mesh grills, speaker housings, lid tethers. Accepts most 6 inch x 9 inch speakers. Speakers not included​
Order extended Harley Davidson saddlebags today, and start enjoying a custom addition to your motorcycle that offers great style at unbeatable value.
We strongly recommend that you contact us with any questions or concerns before ordering, we are always happy to help and want everything to go perfect the first time your order. Please don't hesitate to call 1-800-520-8525 or e mails us, info@westendmotorsports.com.
Click here for Color Matched Stretched Side Covers
Click here to select high quality synthetic leather saddlebag inserts with custom stitching tailor made for your stretched saddlebags.
Note: Fender Extensions for Touring Models originally equipped with OEM tri-bar lights.
Please allow 4-6 weeks to ship after ordering.
Due to the custom nature of this part, orders may not be canceled or returned once ordered.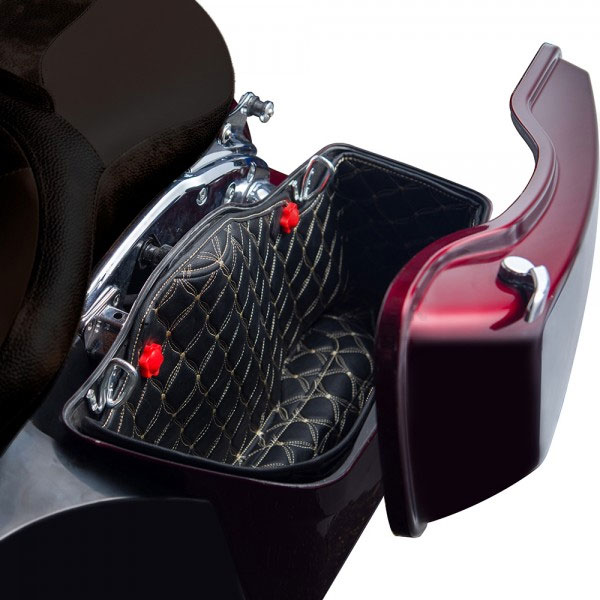 6 months warranty against manufacturer's defects.