Posted by West End Motorsports on Apr 20, 2017

Vance & Hines Complete Stage 1 Power Package for 2017 Harley Davidson Touring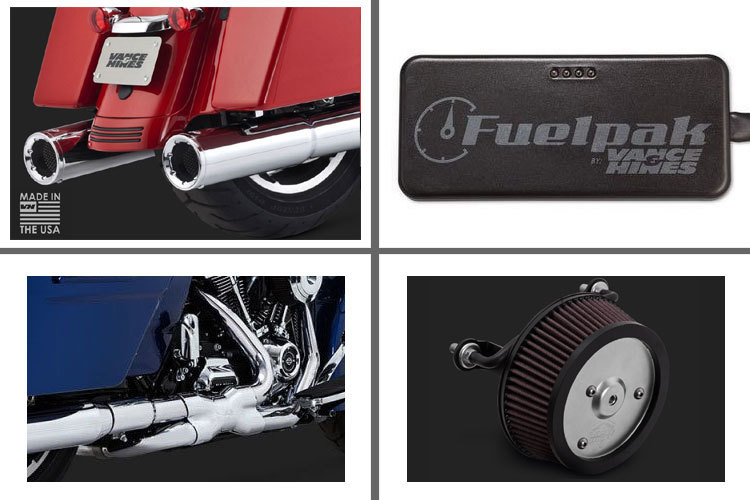 What is a "Complete Stage 1 Power Package" you say? It is everything you need to perform the first step in a performance upgrade on your engine. This is the most common upgrade that many people install on their brand new machines. The purpose is two fold. Number 1 is for the sound.
Stock pipes suck, pure and simple. You want your Harley-Davidson sounding like thunder, not like a sewing machine. The replacement exhaust system accomplishes that by allowing more exhaust gasses out with a larger, free flowing baffle inside the muffler.
Cobra Complete Stage 1 Pwr Package for 2017 HD Touring with Chrome PowrFlo Slip Ons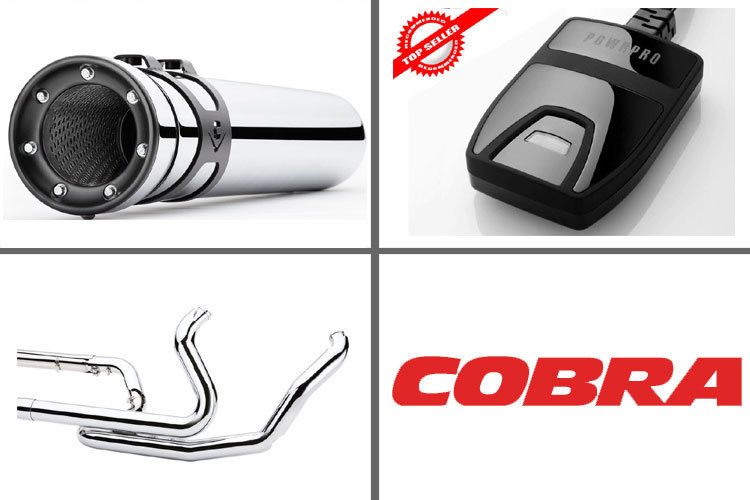 The second reason to install a Power Package is engine performance. By installing a performance exhaust system, high flow air cleaner and a fuel tuner you can expect an 8% to 10% increase in horsepower and a nice mid-range bump in torque, right where you need it. Another plus is by richening up the air/fuel mixture with a fuel tuner, the engine will run cooler and more efficiently.
Rinehart Racing Complete Stage 1 Slimline Power Package for Harley Davidson Touring Models
The main reason we put these kits together was to make it easy for you to select everything you need with one click of the mouse. Most kits consist of headers, mufflers, air kit, and fuel tuner in the brand of your choice. Exhaust systems come in chrome or black and some offer black or chrome end caps for a custom look. There are a lot of choices to give you the opportunity to getting you bike to sound and look the way you want it to.
Bassani Complete Stage 1 Power Package with DNT Megaphone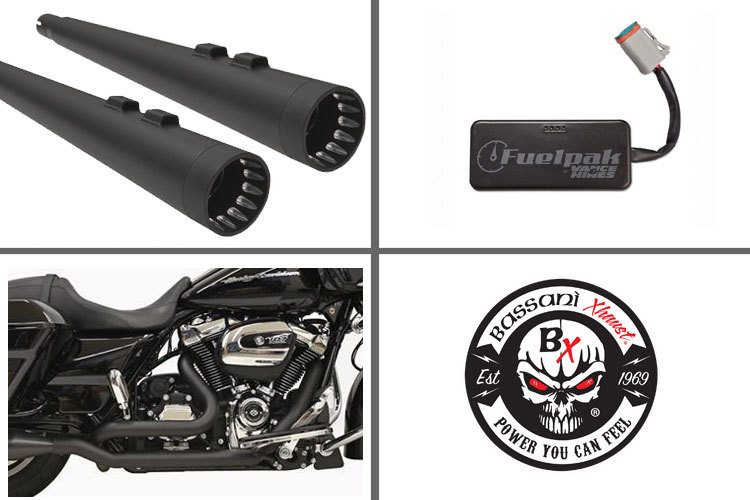 We consider ourselves the Kings of Convenience because we made shopping extremely easy. The hardest part will be deciding which system to choose. We offer Stage 1 Power Packages from Vance & Hines, Cobra, Bassani, and Rinehart Racing. Each system comes in either chrome or black and in some cases allow you to choose custom billet tips to finish off the look you are after.
With basic hand tools and a smart phone, you can install all of the components and adjust your tuner without having to pay big bucks at a dealership. Dynos are a thing of the past with the fuel tuner technology of today.
After installation and you take the bike out for it's first ride, you'll notice a deep, rich, satisfying tone coming from your exhaust system. The second thing you will notice is the bump in horsepower and torque in the low end and mid range where you need it most. The third thing you will notice is the engine and pipes are running cooler. That's because the tuner you installed has richened the fuel/air mixture back to normal, getting your bike the way Harley-Davidson intended too before government emission regulations plugged it all up. And lastly, you'll notice a smile on your face, bigger than before and lasting a lot longer.
Click here to view all Stage 1 Power Packages, exclusively from West End Motorsports.com