Posted by Wiley Moody on Dec 13, 2018
When you're looking for a no frills fairing package, Memphis Shades hits a home run their batwing fairing and matching hardware/windshield combo. The batwing has no inner fairing, and is considered a "windshield fairing". If your looking for audio, the audio system from Hog Tunes is made to fit with the batwing (see below).
The Memphis Shades Batwing Fairing gives you the most bang for the buck! Rugged design stands up to thousands of miles down the road and keeps you from being pummeled by the elements. The no frills design keeps the price where you want it with the ability to add accessories like the Memphis Shades Wind Deflectors and windshield trim in various designs.
The Batwing fairing itself is a tough ABS molded shell, designed to enhance your riding experience. This fairing is a full sized fairing (36 1/2" wide) offering the best protection you can get with a clean aerodynamic shape.The outer shell is opaque black Lucite with a class A finish that looks great as is, or can easily be painted.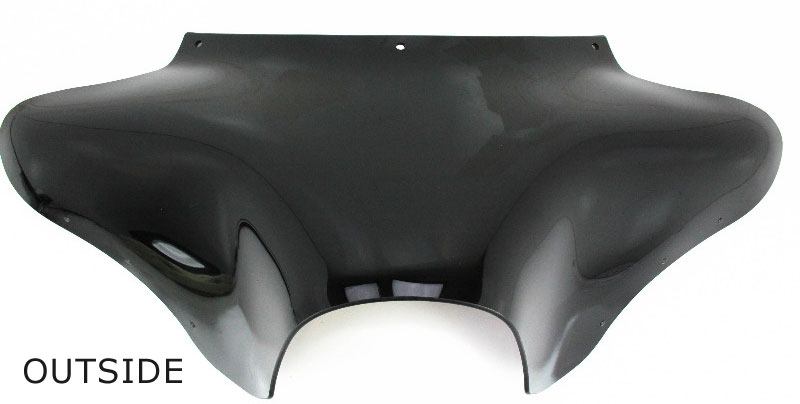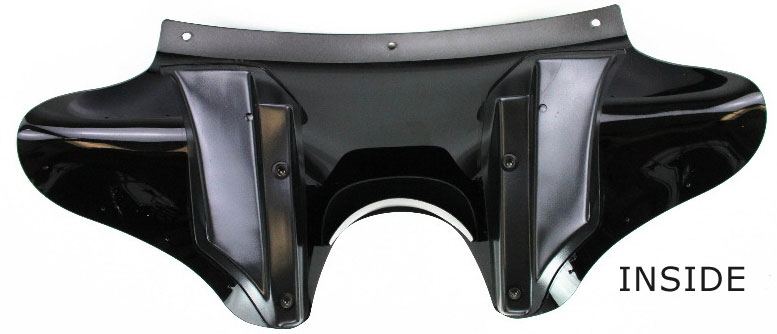 Fairing is pre-drilled and fitted with push-out hole plugs to easily install windshield and deflectors. As soon as the mounting hardware is on the bike, you can pull the fairing out of it's box and snap it right on. Attach your windshield and go riding! Speaking of windshields, there is one more option available to you. The Spoiler windshield, shown below.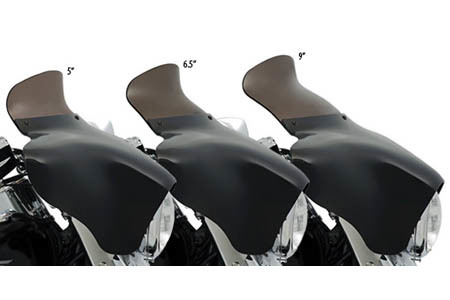 Designed to be looked over, the spoiler windshield diffuses the air stream effectively slowing the flow, without buffeting. Made of Lucite for best quality and durability and is available in three custom heights of 5", 6.5", and 9". Available in Smoke (a medium bronze tint with 30% visible light transmission), Ghost (a light black tint with 85% visible light transmission) or Solar (a light bronze tint with 72% visible light transmission).
Add some custom style with a Memphis Shades windshield trim piece. The windshield trim will highlight the fairing giving your bike a sharper look. Three different styles to choose from to get the look you want.
Get some storage up front with one of the Memphis Shades windshield bags. In true Memphis Shades fashion, they provide you with more custom choices.

Wants some tunes for the road? Add a Hogtunes speaker system!
Hogtunes Bluetooth Enabled Speaker System for Memphis Shades Batwing Fairings [sku 4405-0460].
You get a fully assembled custom pod made specifically to fit perfect on Memphis Shades Batwing fairing!
Pod includes dual 4.25 inch marine grade speakers behind cloth grill.
Includes handlebar mounted all in one 50 watt head unit with control pad for Bluetooth functions.
Head unit with control pad for Bluetooth or hard wired Aux in 1/8" mini jack.
Easily switches between Aux in and Bluetooth
Head unit supplied clamp mounts to 7/8 inch, 1.0 inch, or 1.25 inch handlebars
Can also be mounted using RAM mounting hardware for custom applications
Head unit also features a Hi Level Audio Output to go to amplifier(s) for easy system expansion
All required wiring is included!
Click here to check out a Complete Memphis Shades Fairing kit for your motorcycle